Vogt never so happy to receive silent treatment
Vogt never so happy to receive silent treatment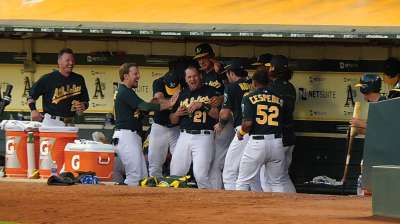 OAKLAND -- Sometimes, good team chemistry is acting like you don't care at all.
Stephen Vogt was greeted by the silent treatment upon his return to the dugout after recording his first Major League hit -- a home run to right field during Friday's 6-1 win over the Cardinals.
"You always wonder if they're going to do it," Vogt said of the baseball-wide tradition. "You kind of see everybody sitting and it's like, 'OK, I'm going to get the silent treatment.' It's a really good feeling to get the silent treatment.
"This group of guys has adopted me right away and made me feel like I'm a part of the family, so it's pretty neat."
Vogt's teammates kept up the act for about 10 seconds before Jed Lowrie finally broke the silence and led the charge while Vogt was grabbing a cup of water.
"We just like to have fun," Lowrie said. "Obviously, after he got his water and we were all happy for him. The silent treatment makes it better."
Vogt's home run snapped an 0-for-32 hitless streak dating back to last season to start his career. He had come close on multiple occasions, including a shot to the warning track in center field in his previous at-bat, but finally got over the hump in try No. 33.
Vogt's success behind the plate has been more immediate. Since his promotion from Triple-A Sacramento on Tuesday, Vogt has caught A.J. Griffin's first shutout against the Reds on Wednesday and Bartolo Colon's eight innings of one-run ball Friday.
"As a catcher, it's important that you do show those qualities early on," manager Bob Melvin said. "The pitcher has to know that you do have those leadership qualities and you're not just back there throwing down numbers. You're throwing down numbers because you're prepared and you understand what that particular pitcher needs to do. The sooner you can give off that type of aura about yourself, the more confidence the pitchers will have in you."
Jeff Kirshman is an associate reporter for MLB.com. This story was not subject to the approval of Major League Baseball or its clubs.