With Jaso on seven-day DL, A's recall Vogt
With Jaso on seven-day DL, A's recall Vogt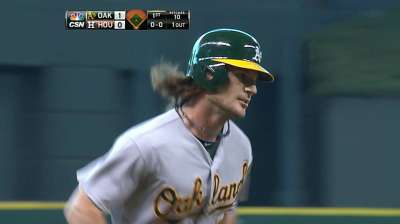 OAKLAND -- The A's recalled catcher Stephen Vogt from Triple-A Sacramento on Thursday to replace John Jaso, who was placed on the seven-day disabled list designated for players with concussions.
Jaso exited Wednesday's series finale against the Astros in the eighth inning with a headache after he was hit in the mask by a foul tip for the third time in four games. He had reached base safely in each of his past 27 starts at catcher prior to the incident.
"Nowadays, there's more evidence and more scrutiny put upon those types of things," A's manager Bob Melvin said. "In the past, you kind of just played through these things and I think it's shown with some injuries, head injuries in the past, that you do need to be more careful with it."
Melvin said he anticipates the seven days will be enough for Jaso to recuperate. He must spend a minimum of seven days on the DL, and he will be transferred to the 15-day DL if he isn't reinstated after 14 days.
"I think that's why they did it, made it seven days, because they got together with whoever the proper people are to diagnose these things," Melvin said of the rule established specifically for concussions. "But yeah, I would think [Jaso would be back]."
Vogt made a good showing with his first appearance with the A's in early July. He went 2-for-13 with a home run for his first Major League hit in his first stint with the club. The A's won all four games he started at catcher, and Melvin credited his ability to manage Oakland's starters despite a limited rapport with the staff.
Vogt has batted .323 with four home runs and 15 RBIs in 16 games with Sacramento since he was optioned back down, and he posted a .324 average with 13 home runs and 58 RBIs in 74 games with the River Cats this season.
Jeff Kirshman is an associate reporter for MLB.com. This story was not subject to the approval of Major League Baseball or its clubs.