Attention won't stray from field as Deadline approaches
Attention won't stray from field as Deadline approaches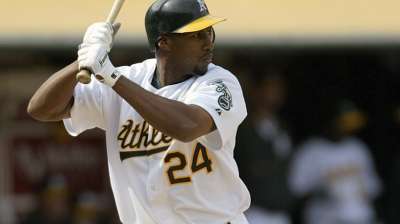 OAKLAND -- The A's and general manager Billy Beane are notorious for their willingness to pull the trigger on deals at the Trade Deadline, but manager Bob Melvin insists it won't serve as a distraction for his team as the July 31 Deadline looms less than a week away.
"I don't think it's much of a distraction for these guys, to be honest," Melvin said. "Whether something's done or not, we feel like we have a good team. It would be one thing if everybody was looking at a glaring weakness we need to address. You're just trying to incrementally upgrade your team, and if there's something out there to be done then you do it."
White Sox starter Jake Peavy has been rumored to be on the A's radar, according to CBS Sports' Jon Heyman. Oakland may also look to upgrade a middle infield that has featured a platoon of Adam Rosales and Eric Sogard -- serviceable but not stellar solutions at the position, especially considering Oakland's sporadic hitting this season.
Nonetheless, the A's (59-42) hold a 3 1/2 lead over the Rangers in the American League West and own the best mark in the Majors since July 1 of last year.
"I think based on where we are, we feel good about our team," Melvin said. "We don't look too far ahead. I think you have long-term goals and short-term goals. Our long-term goal is, yeah, we think we can go back to the postseason again, but then we narrow it back down to today and doing everything we can to win today."
Jeff Kirshman is an associate reporter for MLB.com. This story was not subject to the approval of Major League Baseball or its clubs.