Balfour's wife leads treadmill run for charity
Balfour's wife leads treadmill run for charity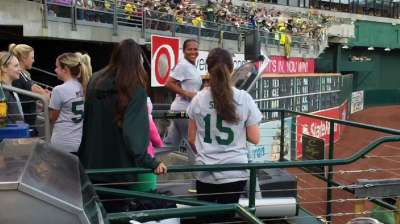 OAKLAND -- Tommy Milone called her a "fitness freak". Josh Donaldson claimed, "She could probably beat up half the guys in this locker room."
Angie Balfour, wife of A's closer Grant, is many things: mother, physician's assistant, avid runner -- and she's teamed up with Smile Train and the better halves of the A's players and coaches to raise money in Friday's "Miles for Smiles" treadmill run.
Smile Train is an international nonprofit organization that provides free cleft surgery and comprehensive care to underprivileged children in developing countries. Angie Balfour reached out to the charity and discussed possible fundraising opportunities before bringing the idea to the A's and settling on the treadmill vehicle.
"It was always something that I had considered, maybe joining on a medical mission with them, and now that I have two children and I get to wake up and see their beautiful smiles every day, it's hard to not tie the two together," she said. "I just fell in love with this organization. They're awesome and amazing, and the things they do are hands-down phenomenal."
A single cleft surgery costs as little as $250 through Smile Train, and the A's wives, girlfriends and other family members will attempt to raise enough money to fund a surgery with every mile run on a treadmill set adjacent to the left-field BBQ Terrace at O.co Coliseum.
Balfour, owner of the A's record for consecutive saves, participated in an autograph session prior to the game, and there was also an in-game raffle and donation table set up behind Section 120. All proceeds will benefit Smile Train.
Among those expected to run include Maria Crisp, Milessa Lowrie, Tina Milone, Lindsay Smith, Kaycee Sogard and Amanda Straily. Mrs. Balfour ran the first 15-minute leg before Straily took over, and they'll keep rotating throughout the game.
A's left-hander Tommy Milone said his fiancee would be able to run in the range of 5-7 miles, but Angie is undoubtedly the favorite to log the most mileage among the members of the A's locker room.
"I know Angie's ready to run a fair way," Grant Balfour said. "She usually runs every day in the morning, but she chose not to run too much this morning, just a little bit, so she could run tonight.
"We'll see how many she logs in. She's the one behind it all and promoting it all, so hopefully throw in the most miles, I hope. There are some girls out there that can run, so there's a lot of pressure."
Jeff Kirshman is an associate reporter for MLB.com. This story was not subject to the approval of Major League Baseball or its clubs.