Sogard could earn increased playing time
Sogard could earn increased playing time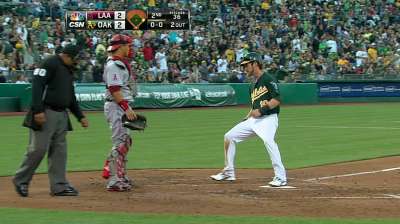 OAKLAND -- Quietly showing improvement in his play of late is A's second baseman Eric Sogard, who is 6-for-16 in five games since the All-Star break after going 7-for-39 over his final 16 contests before the break.
Not the largest sample size, of course, but manager Bob Melvin has taken notice, and if Adam Rosales' struggles at the plate continue down the stretch, Sogard could see increased playing time rather than the current platoon situation employed by Oakland's manager.
"He's just taking advantage of his opportunities," Melvin said. "When you're not playing every day, even though you see mostly right-handers, he's getting quite a few at-bats."
Nine of Sogard's last 13 hits entering Friday have been for extra bases, and he's homered twice in his last 11 games after going homerless in a career-high 90 consecutive games dating back to last year.
For now, he'll continue to provide a left-handed bat in the lineup against primarily right-handed pitchers. He's made 66 of his 69 starts against right-handed pitching and is batting .278 against right-handers compared to .189 against lefties.
"It's about making a case for yourself and results, and he's done a nice job for us," Melvin said. "He's really swinging the bat as well as anybody we have right now. Consistent play in the infield, and a guy that's getting more of an opportunity to play on a semi-regular basis than he has in the past, and the reason he is because he's doing well."
Jeff Kirshman is an associate reporter for MLB.com. This story was not subject to the approval of Major League Baseball or its clubs.