Anderson simulates game warmup in rehab session
Anderson simulates game warmup in rehab session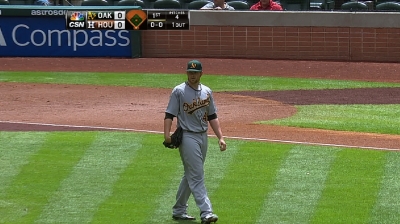 OAKLAND -- Brett Anderson is past the point of worrying and talking about his foot. Oakland's rehabbing lefty is simply focused on his pitches these days.
Anderson threw 51 of them in an up-and-down bullpen session on Saturday morning, first throwing 26 warmup pitches, as he would leading up to a regular start, before sitting down and getting back up to throw 25 more -- five more warmup pitches and 20 simulated pitches to both righties and lefties.
"Curt [Young] gave me a break, said we had scored two runs," Anderson said, smiling. "It was good. Going into it I didn't think there were going to be any problems, but you never know how you're going to react to sitting."
"I think the effort he used today was closer to game effort," Young added, "so he is progressing the way we want him to progress. His ankle feels great, his foot feels great."
The next step for Oakland's southpaw, out since April because of a stress fracture in his right foot, is likely a simulated game, followed by a rehab stint.
"I feel strong," Anderson said. "My body's a non-issue, more so focusing on my pitching and making sure my pitches are where they are. It was another positive bullpen."
Jane Lee is a reporter for MLB.com. Jeff Kirshman is an associate reporter for MLB.com. This story was not subject to the approval of Major League Baseball or its clubs.