Reddick out of lineup day after taking knee to head
Reddick out of lineup day after taking knee to head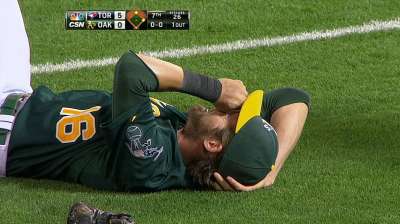 OAKLAND -- Josh Reddick was held out of the A's lineup for Wednesday's series finale against the Blue Jays after taking a knee to the right side of his head in a three-player collision the night before.
"He came in today with a little bit of a headache, and that's why I scratched him," manager Bob Melvin said. "We don't feel it's concussion symptoms, but anytime someone comes in with a headache after being hit on the head, you want to be careful with that."
Reddick's name initially appeared in the starting lineup, but after undergoing a series of tests, the A's chose to go with Chris Young in right field, ensuring Reddick not only one day of rest but two, thanks to Thursday's off-day.
"Hopefully, with both those days," Melvin said, "he'll be good to go Friday."
Reddick was going after a shallow fly ball in right field on Tuesday night. First baseman Nate Freiman and second baseman Jed Lowrie had the same idea, and Lowrie's knee rammed into Reddick's head as the ball dropped. Reddick remained on the ground for some time, but after speaking with Melvin and a team trainer, stayed in the game.
Jane Lee is a reporter for MLB.com. This story was not subject to the approval of Major League Baseball or its clubs.