Crisp limited to pinch-running while wrist heals
Crisp limited to pinch-running while wrist heals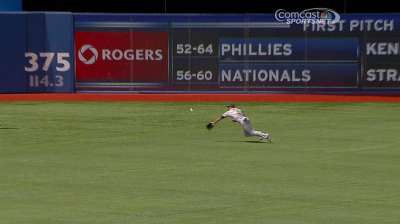 OAKLAND -- A's outfielder Coco Crisp received a cortisone injection Tuesday night to help relieve the pain in his left wrist and he will be unavailable to hit for a handful of games.
While the A's hope the shot will accelerate the healing process, manager Bob Melvin said it would also result in Crisp's inability to swing a bat for "a day or two."
"It had been lingering a little bit and we felt like this was probably the best course of action to speed up the recovery," Melvin said.
Oakland's leadoff man and center fielder injured his wrist while making a diving backhanded catch in Sunday's contest against the Blue Jays. He was inserted into the eighth inning of Tuesday's series-opening loss against the Astros as a pinch-runner and was available to do so again Wednesday.
Jeff Kirshman is an associate reporter for MLB.com. This story was not subject to the approval of Major League Baseball or its clubs.