Colon battling worst funk of comeback season
Colon battling worst funk of comeback season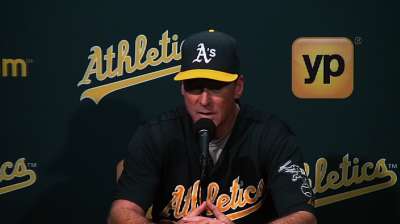 OAKLAND -- It's difficult to gauge the amount of concern there should be following Bartolo Colon's second poor start in as many outings.
Colon has stepped in as Oakland's ace this season with Brett Anderson on the disabled list and has had perhaps his best season since receiving the 2005 American League Cy Young Award, winning 14 games with a 2.97 ERA in 25 starts this season.
Yet he hasn't made it past the fourth inning in his last two outings. He gave up five runs in four innings on Tuesday against the Astros and has allowed 10 earned runs in his last 6 2/3 innings after allowing just nine in his previous 49 1/3.
Colon's funk is particularly concerning because of his age. The 40-year-old is on pace to pitch his most innings since '05, and his velocity has dropped in his last handful of starts.
The drop in velocity of his fastball -- easily Colon's most prevalent pitch -- has resulted in less movement. At his best, the right-hander's fastballs quiver around the plate, but on Tuesday many found the heart of strike zone and resulted in seven hits and his exit after 77 pitches.
"I don't think he's thrown this many innings since '05 or '06, I believe, so yeah, you continually monitor that," A's manager Bob Melvin said. "You know, it is what it is as far as [age] goes, and we'll just continue to monitor each and every outing."
Melvin said there are no plans for Colon to skip a start or receive extra rest before his next outing, adding that such a move might not make a difference.
Colon's start against the Reds on Aug. 7 followed more than the typical five days' rest, yet ended after 2 2/3 innings -- his shortest of the season -- when, once again, the opposing batters tagged him for five runs on seven hits.
"I don't know if that would really, at this point in time, help him that much," Melvin said. "We've talked to him some. He had seven days before the previous one to this one, I think Cincinnati. If he feels like he needs it, we'll certainly try to stay communicative with about him with that. He's just going through a rough patch right now."
Jeff Kirshman is an associate reporter for MLB.com. This story was not subject to the approval of Major League Baseball or its clubs.