Reddick takes batting practice, nearing return
Reddick takes batting practice, nearing return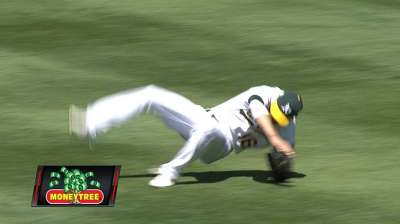 BALTIMORE -- Josh Reddick took batting practice prior to Friday's series opener against the Orioles.
Reddick could be available off the bench and then back in the lineup Saturday, manager Bob Melvin said.
Reddick was forced to leave Wednesday's game against the Mariners with a sprained right wrist he suffered while making a diving play in right field. He was taken to a nearby hospital for an MRI exam, which did not reveal any serious damage. However, the A's were being cautious because he suffered the same injury earlier in the season.
"I was worried about that -- the way he was feeling the other day and then had to have the MRI," Melvin said. "We were worried about how he would feel today. Surprisingly, he felt pretty good."
Todd Karpovich is a contributor to MLB.com. This story was not subject to the approval of Major League Baseball or its clubs.