Suzuki gets first start back with A's
Suzuki gets first start back with A's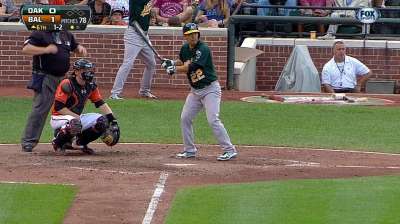 BALTIMORE -- Oakland catcher Kurt Suzuki, who joined the team Friday in Baltimore after being traded from the Nationals, got the start on Saturday, and he was paired up with righty Jarrod Parker.
Suzuki, batting ninth, doubled and scored the A's first run in their 2-1 win over the Orioles on Saturday, and made a nice play on a bunt to throw out Manny Machado in the eighth inning.
Manager Bob Melvin informed Suzuki when he joined the club that he would likely get a start against the Orioles. Suzuki spent Friday getting himself acclimated to his new surroundings.
"He wanted to give me [Friday] to get my stuff situated," Suzuki said. "I'll be ready everyday."
The A's acquired Suzuki from Washington for Minor League right-hander Dakota Bacus. Suzuki hit .222 with three home runs and 25 RBIs in 79 games for the Nationals this season.
Suzuki spent the first 5 1/2 seasons of his career with Oakland, and Melvin said Suzuki's experience with the team could prove vital, especially this late in the season.
"He's caught Jarrod before," Melvin said. "That was one one of the reasons we were hoping to get him, because there is very little transition involved. If you're bringing in somebody who has never caught these guys before with 35 games left, there is a transition."
Todd Karpovich is a contributor to MLB.com. This story was not subject to the approval of Major League Baseball or its clubs.