Rotation still in flux for Tigers series
Rotation still in flux for Tigers series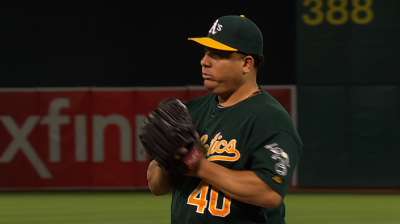 BALTIMORE -- Oakland manager Bob Melvin would not commit to a rotation for a four-game series at Detroit starting on Monday.
A.J. Griffin will pitch the first game against the Tigers. But Melvin is still waiting to see how Brett Anderson and Bartolo Colon are progressing with their injuries before committing to the other spots.
"There are some different variables to it, based on Brett Anderson's potential availability and where we are with Bartolo," Melvin said of Colon, who is on the disabled list with a strained left groin and will throw a bullpen session on Monday in Detroit. It will be Colon's first bullpen all year, because he is more accustomed to throwing from flat ground.
Anderson, who is on the disabled list with an injured right foot, could also get a bullpen session that day, Melvin said.
"We'll make some decisions in Detroit about what we have going forward," Melvin said.
Todd Karpovich is a contributor to MLB.com. This story was not subject to the approval of Major League Baseball or its clubs.