Reddick placed on 15-day DL with sprained wrist
Reddick placed on 15-day DL with sprained wrist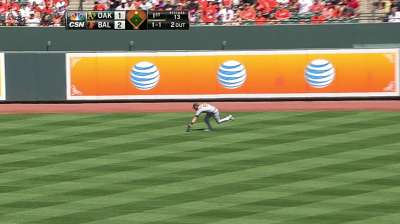 DETROIT -- While his teammates prepared to begin a crucial four-game series in Detroit on Monday, A's outfielder Josh Reddick made his way back to the Bay Area to rest a sprained right wrist.
For the second time this season, the injury landed Reddick on the 15-day disabled list, leading the A's to call up Daric Barton from Triple-A Sacramento to take his roster spot. Barton will platoon at first base with Nate Freiman, while Brandon Moss moves to right field and shares time at the position with Chris Young in place of Reddick.
"Any time you lose your starting right fielder, it's a loss," said manager Bob Melvin. "Even though he hasn't been swinging the bat like he's capable this season, he helps out defensively, on the bases. There are a lot of things he does that helps a team win other than swing the bat. It hurts some, but the versatility that we have helps."
Reddick initially reinjured the same wrist that forced him to the DL for 24 days in May on a diving play in the outfield last week, ultimately returning to the starting lineup this past weekend only to hurt it again Sunday.
As was the case last time, the A's are hoping their Gold Glove outfielder can avoid surgery.
"Nothing has been said about surgery at this point, so it's more about trying to first get him healthy and then rehabbing it," Melvin said. "So hopefully surgery is not an option."
Reddick is batting just .213 on the season, a dismal clip that actually reflects improvement upon the numbers he had when sidelined in May. He was hitting .152 then and was able to boost that mark to as high as .222 upon his return, backing up his theory that the wrist ailment had contributed to his hitting woes.
Not wanting to play through it again and watch his performance suffer even more, Reddick said after Sunday's game, "I'm not going to be stupid about it again."
Reddick's disappointing season comes on the heels of a breakthrough 2012, as he finished the campaign with 32 homers and 85 RBIs. Through 97 games this year, he has 10 home runs and 46 RBIs.
Jane Lee is a reporter for MLB.com. This story was not subject to the approval of Major League Baseball or its clubs.