Anderson activated, notches first career save
Anderson activated, notches first career save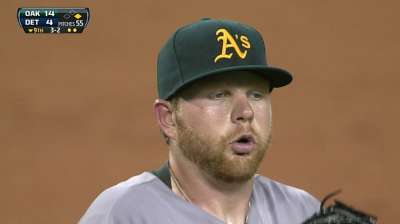 DETROIT -- A's pitcher Brett Anderson's first career relief appearance also happened to mark the last time he was in a big league game before Wednesday night.
That was four months ago, when he tossed 5 1/3 innings in the A's 19-inning win over the Angels. Now Anderson's back, returning from a stress fracture in his right foot to the same role he left.
Anderson was officially activated off the disabled list in Detroit on Wednesday and listed on the lineup card in the bullpen, as the postseason-hopeful A's prepare to use their Opening Day starter in any way needed.
"I don't know exactly," said manager Bob Melvin. "He can pitch in any number of roles. We also want to hold out the option of potentially stretching him out, too, which is kind of difficult to forecast when that opportunity can come up. I could use him for a hitter, I could use him for a couple of innings, I could try to stretch him out based on where the game's going. It's more of a feel thing, so we'll wait and see."
Melvin didn't have to wait long to see, throwing Anderson out for the seventh inning and letting him finish off the A's 14-4 victory over the Tigers. The lefty allowed three runs on five hits but recorded his first save, even getting the game ball.
"That's what we were looking for," said Melvin. "We were fortunate to have that opportunity to get him out there and stretch him out a little bit, and his stuff looked pretty crisp. There were a couple pitches he left out in the middle of the plate, but his slider looked tight, he had a good curveball, the velocity on his fastball was good."
"It was good," Anderson said. "All things considered, I'll probably never feel better about giving up three runs in an outing than I did tonight. I threw strikes exponentially better than I did in my rehab starts."
Anderson threw 56 pitches in the outing, leading Melvin to deem him closer to being ready to start again.
The biggest dilemma stemming from Anderson's unknown role? A's relievers are sporting faux-hawks, while starters are bonding over facial hair.
"I'm torn," he said. "I don't know if I need a Mohawk or a mustache. I can't do 'em all. I'll probably just do my own deal. It's weird."
Regardless, putting Anderson in the bullpen was the easiest way to get him back quickly without him having to "waste too many bullets" with rehab starts, Melvin said.
"He just wants to be back on the team, and this is the quickest way to do it," Melvin continued. "He considers himself a starter, and he wants to be a starter again, but I think just being active, out there with everyone, more than anything else that's what he's excited about."
"I didn't think it would take this long to get back," Anderson said, "but that's kind of just the way it played out, and hopefully I can be a boost to the ballclub from here on out."
Jane Lee is a reporter for MLB.com. This story was not subject to the approval of Major League Baseball or its clubs.