Reddick receives cortisone shot for ailing wrist
Reddick receives cortisone shot for ailing wrist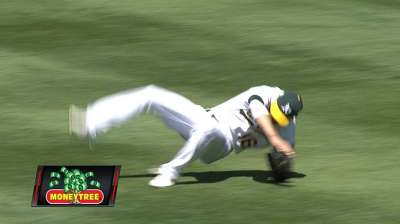 OAKLAND -- Josh Reddick donned a Georgia cycling jersey and displayed a Georgia football helmet in his corner locker of the A's clubhouse in honor of the start of the college football season before Friday's game against the Rays, but he was also sporting a splint on his right wrist.
The A's right fielder received a cortisone shot in his right wrist two days ago and has been on the 15-day disabled list since Monday with a sprained right wrist -- the second time this season he's missed time with such an injury.
Coco Crisp received a similar treatment when he injured his left wrist while making a diving backhanded catch earlier this month. At the time, A's manager Bob Melvin said cortisone shots often make players unavailable for two to three days but ultimately accelerate the recovery process.
Crisp has since returned to the field to become one of the A's largest contributors. He batted .345 in seven games during the A's recent road trip after going 1-for-8 in the previous homestand.
"It certainly did the trick for Coco," Melvin said, "so we're hoping it does the trick for [Reddick]."
Jeff Kirshman is an associate reporter for MLB.com. This story was not subject to the approval of Major League Baseball or its clubs.