Reddick feeling no soreness in injured wrist
Reddick feeling no soreness in injured wrist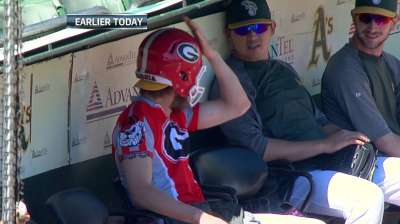 OAKLAND -- Josh Reddick remains confident that his stint on the disabled list will take no more than the 15 days allotted as he recovers from a right wrist injury for the second time this season.
The A's right fielder received a cortisone shot on Wednesday and said he hasn't felt soreness in the past day and a half. He is eligible to return from the DL on Sept. 10.
While he's yet to pick up a bat, he hopes to take batting practice later in the week, assuming there are no complications with the healing process.
Coco Crisp received a cortisone shot to heal a similar injury in his left wrist, though the severity didn't require a DL stint. The center fielder has since returned to hit six home runs in the past 11 games, including a leadoff shot Sunday against the Rays.
"Hopefully they put in mine what they put in Coco's and I can go out there and do what he's doing," Reddick said.
Jeff Kirshman is an associate reporter for MLB.com. This story was not subject to the approval of Major League Baseball or its clubs.