All signs point to Norris returning on Thursday
All signs point to Norris returning on Thursday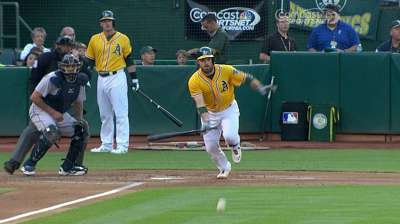 OAKLAND -- All signs point toward Derek Norris returning to the A's from the 15-day disabled list upon his eligibility to do so on Thursday.
The A's backstop went 3-for-5 with a home run, three RBIs and two runs scored on Sunday in his second of three rehab starts with Triple-A Sacramento since fracturing his left big toe two weeks ago. He'll catch nine innings on Monday in the last game of the Minor League season and rest up as the 15 days run out.
"If he continues to be healthy, which we expect, then we'll activate him," A's manager Bob Melvin said.
Prior to joining the River Cats, Norris said the only baseball activity that caused him trouble was running at full speed, while running, cutting, swinging and squatting were fine.
The pain is manageable, he said, crediting his high tolerance for pain.
"It depends on where the break is," Melvin said. "He's obviously able to handle it right now. As far as his pain tolerance, I'm not really sure on that. If he says that, I believe him. Most catchers are."
With rosters having expanded, Norris' return will make him the fourth catcher on the roster with recent acquisition Kurt Suzuki, Stephen Vogt and John Jaso, who is on the DL with a concussion.
"I really don't' know yet," Melvin said about any pending roster moves. "Like most things we do, we try to match up the best on a particular day."
Jeff Kirshman is an associate reporter for MLB.com. Jane Lee is a reporter for MLB.com. This story was not subject to the approval of Major League Baseball or its clubs.