With Norris' return, Melvin to juggle three catchers
With Norris' return, Melvin to juggle three catchers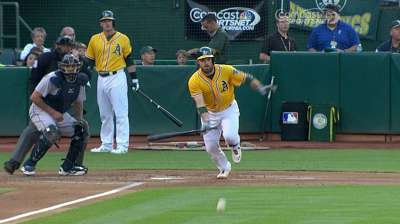 OAKLAND -- Upon Derek Norris' expected return Thursday, A's manager Bob Melvin will be faced with an enviable problem.
Melvin will have three healthy catchers on his roster, two of which are used to playing every time a lefty's on the mound: Norris and Kurt Suzuki. Then there's Stephen Vogt, who will continue to start against right-handers.
"I think each of them bring certain attributes. It doesn't mean they're the same," Melvin said Wednesday. "We'll run what we feel is the best lineup on a particular day. Derek has swung the bat really well against left-handed pitching. Kurt's given us a nice bit of infusion and has swung the bat well and worked well with the pitchers.
"It's going to be a tough call when the lefty's out there, but it's a better problem to have than not enough guys."
Norris will be playing with a fractured left big toe that put him on the disabled list Aug. 23, retroactive to Aug. 21. On Wednesday he admitted he's "going to feel some pain, but it's manageable."
"It's not keeping me from doing anything," Norris assured. "I'm not going to be a liability for any reason. It's ready to go."
Norris' Minor League rehab numbers back this up. He went 6-for-14 (.429) with two home runs and four RBIs in a three-game assignment with Triple-A Sacramento, starting two games at catcher and one at designated hitter.
"He swung the bat really well," said Melvin. "He feels pretty good about where he is, and it was nice to get him some consistent at-bats down there, and for him to have the success he had as well, to give him confidence on his way back."
Norris, hitting .309/.406/.577 against lefties this season, could be back in the starting lineup as soon as Friday, when the Astros are slated to pitch southpaw Dallas Keuchel. Come Saturday's day game, with another lefty in Brett Oberholtzer going, Melvin would likely turn to Suzuki. Or, it could be the other way around.
"Like we have all year, the team is set up a particular way and designed to played a particular way," Melvin said, "and that's the way we'll do it. We'll monitor Derek as we go along. I was told he felt good."
Jane Lee is a reporter for MLB.com. Jeff Kirshman is an associate reporter for MLB.com. This story was not subject to the approval of Major League Baseball or its clubs.