No timetable on Reddick until he's able to take BP
No timetable on Reddick until he's able to take BP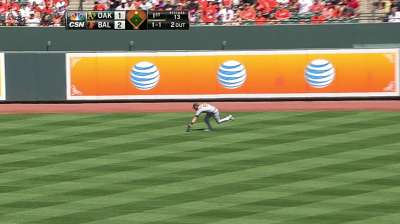 OAKLAND -- A's outfielder Josh Reddick continues to progress in his rehab without feeling any pain in his sprained right wrist, but he's also no more close to taking batting practice on the field.
And the A's won't have any idea of a timetable for Reddick's return until he takes BP.
"He feels good," manager Bob Melvin said Wednesday. "As far as what he's doing in the cage, he's had no problems with it, with soft toss and tee work. When the training staff is comfortable letting him take batting practice on the field, we'll know more."
Reddick is eligible to be reinstated from the disabled list Tuesday, and he said earlier in the week he expects to be ready then. For now, the A's will continue to rotate Brandon Moss and Michael Choice in right field.
Moss has made each of his last eight starts in right field, entering the day batting .364 in that span.
Jane Lee is a reporter for MLB.com. Jeff Kirshman is an associate reporter for MLB.com. This story was not subject to the approval of Major League Baseball or its clubs.