Off DL, Norris provides reinforcement at catcher
Off DL, Norris provides reinforcement at catcher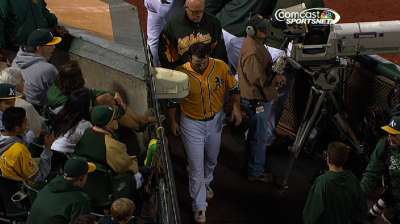 OAKLAND -- The A's welcomed back Derek Norris to their roster on Thursday, giving them three healthy catchers to rotate through the lineup down the stretch.
Fresh off the disabled list, Norris did not start Thursday's series opener against the Astros, with right-hander Brad Peacock starting, but he could be in the lineup come Friday against southpaw Dallas Keuchel.
Norris, like Kurt Suzuki, was available off the bench Thursday, giving manager Bob Melvin an extra weapon when looking to match up against relievers. Norris will be playing with a fractured left big toe, but has maintained the pain is manageable.
"Having a third guy now gives us a chance to do some in-game stuff we weren't able to do before," said Melvin. "We feel like we have three quality guys. Whoever is starting on that particular day, we feel good about."
With a trio of catchers in tow, Melvin can also utilize the more experienced Suzuki as a defensive replacement late in games, particularly when Ryan Cook and Grant Balfour -- and their sliders -- are present.
"It's more comfortability and experience with some of the bullpens late, but the more Stephen [Vogt] catches, the more he gets acclimated to them too," said Melvin. "He does a nice job. He throws well and has done a good job."
Norris has a .345 average and .446 on-base percentage in 26 games since July 1.
Jane Lee is a reporter for MLB.com. This story was not subject to the approval of Major League Baseball or its clubs.