Catching carousel working out well
Catching carousel working out well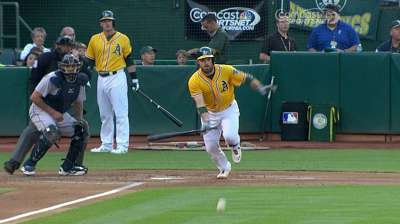 ARLINGTON -- The A's are playing musical chairs behind the plate these days, doling out playing time to all three catchers on their roster.
And it's working out quite well.
Oakland started Derek Norris at catcher for Sunday's series finale against Texas, the club's third catcher in as many days. Kurt Suzuki drew the start behind the plate Friday and Stephen Vogt was given the nod Saturday.
Through the first five games of the six-game road swing, the trio was 12-for-24 with four RBIs.
"We have three catchers that we have a lot of faith in doing what they do behind the plate," said manager Bob Melvin.
Norris is dominating left-handers, leading Melvin to move him up to the fifth spot of the lineup Sunday. He has batted .313 with all eight of his home runs against them, compared to .152 against right-handers.
John Jaso, meanwhile, is unlikely to return after missing nearly two months because of concussion symptoms. Jaso is making steady progress, but "I haven't heard anything to suggest there's a timetable for getting him back," according to Melvin.
Jane Lee is a reporter for MLB.com. This story was not subject to the approval of Major League Baseball or its clubs.