Jaso gets peace of mind with successful BP
Jaso gets peace of mind with successful BP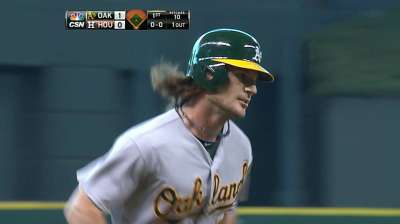 OAKLAND -- A's catcher John Jaso won't play in another game this season. But that didn't matter on Tuesday.
For the first time since landing on the disabled list with a concussion in July, Jaso took batting practice on the field without experiencing any symptoms, which is quite the encouraging sign for the catcher.
"It's been a couple days I've been asymptomatic, so it's a real positive thing," Jaso said shortly after coming off the field. "If it was still kind of left as a question mark going into the offseason, it would kind of add stress to the offseason, but proving it to myself that I can go out there and do that gives me peace of mind at least."
"I think that's what this was all about all along, as far as this first step," said manager Bob Melvin. "He's turned a corner here within the last four or five days to where he feels pretty good. He's waking up feeling a lot better, and now to have baseball activity on the field is a resource for him to feel good about where he is."
Jaso, 29, will head into the offseason having given the A's 21 RBIs in 70 games. He hit .271 with a .387 on-base percentage.
Jane Lee is a reporter for MLB.com. Jeff Kirshman is a contributor to MLB.com. This story was not subject to the approval of Major League Baseball or its clubs.