Cespedes plans to play through tendinitis
Cespedes plans to play through tendinitis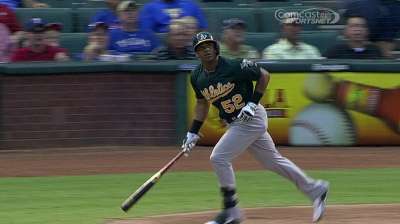 OAKLAND -- The A's were relieved on Tuesday to find Yoenis Cespedes' MRI results revealed there was no tear, only tendinitis, in the outfielder's right shoulder.
That's manageable, so Cespedes will continue to play "as tolerated," said manager Bob Melvin.
"It's tendinitis, which is a good outcome," Melvin said. "We'll probably DH him for a bit here, and then when he feels good, as far as throwing the ball, get him back out in the outfield. At least we feel better about the fact that we know what it is, and it is tendinitis."
Cespedes made his fourth start at DH in his last five games on Tuesday against the Angels, while Brandon Moss was given the nod in left field for just the fifth time this season. Chris Young can also do the job, as can Seth Smith and rookie Michael Choice.
Bottom line: The A's have plenty.
"The versatility of our roster does pay off when you do have some injuries," Melvin said, "and we're equally as comfortable with Moss in left as anywhere we play him."
Cespedes will refrain from throwing for now to alleviate stress on the shoulder. The A's are just happy they can use his bat, which has produced a .389 clip, three home runs and 13 RBIs in September.
Should pain worsen for Cespedes, the A's could opt to send him for a cortisone shot.
"We'll see, as far as a shot goes. There's the potential of that," said Melvin. "If that's the case, it probably speeds up the healing process."
Jane Lee is a reporter for MLB.com. Jeff Kirshman is a contributor to MLB.com. This story was not subject to the approval of Major League Baseball or its clubs.