Amid walk-off celebration, Sogard loses glasses
Amid walk-off celebration, Sogard loses glasses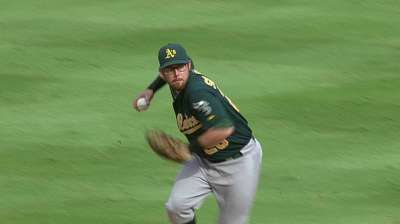 OAKLAND -- Eric Sogard has made just one error in 113 starts as a middle infielder for Oakland, but that surehandedness was absent in the A's postgame scrum following their 2-1 walk-off win over the Angels on Tuesday at O.co Coliseum.
Sogard, Oakland's bespectacled shortstop/second baseman hybrid, lost his glasses in the midst of the A's mobbing of Josh Donaldson following his walk-off RBI single. Sogard's hat was the first to go and he suspected his glasses were soon to follow, but the euphoria of the moment was too much to pass up.
A flailing limb jarred them loose and Sogard nearly salvaged them on their way to the ground. Yet he couldn't quite snag them. They were crushed in multiple pieces by the time Seth Smith returned the remains of the eyewear.
"By the time I wasn't able to make the catch, they hit the ground and the mob kept moving. I knew I had no shot at going down and getting them," said Sogard, one of the few players in baseball who opts to wear glasses instead of contacts. "I just kind of hoped that nobody stepped on them, but this time that wasn't the case.
"It's always on my mind," he added. "I'm always cautious of it. I try to keep them on my face and not let them get crushed."
Smith spotted the glasses after the scrum.
"It's kind of hard to talk about," Smith said. "One piece over there, one piece over here. There's just nothing you can do. Thankfully, he was prepared and he has a backup."
Sogard brought the remains to the A's authenticator, who placed a sticker to commemorate the moment. He said he hopes to auction them off for charity -- assuming the Hall of Fame doesn't come calling.
Jane Lee is a reporter for MLB.com. Jeff Kirshman is an associate reporter for MLB.com. This story was not subject to the approval of Major League Baseball or its clubs.