Cook to work through recent rough stretch
Cook to work through recent rough stretch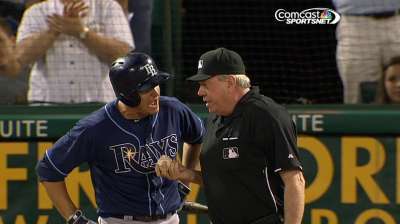 OAKLAND -- Like he's done with Sean Doolittle and Grant Balfour at times this season, A's manager Bob Melvin will let reliever Ryan Cook work through his ongoing struggles.
Cook has allowed six runs, 21 hits and seven walks in his last 10 innings. He hit two batters in the seventh inning of Tuesday's game against the Angels after hitting two total in his first 65 outings, which loaded the bases for lefty Jerry Blevins.
Blevins struck out Josh Hamilton to bail out Cook and end the seventh, but Cook's woes are still apparent -- and magnified when considering how dominant he was before this stretch. He allowed just 12 earned runs in 53 1/3 innings through Aug. 14, for a 2.03 ERA.
That's why Melvin can't afford to rest Cook, unless he actually needs the rest.
"[Tuesday] night, he didn't give up a run. He got two quick outs and then had some baserunners, and we were able to get him out of it," Melvin said. "I'd give him some time off if his workload would suggest that, but this is a guy that's important to us.
"I think, like anybody, Doolittle struggled for some time, and he worked through that and is doing great for us now. It's more about if you want to give him a day for the workload, and we do have some other resources down there, some other guys to use if that's the case."
Jane Lee is a reporter for MLB.com. Jeff Kirshman is an associate reporter for MLB.com. This story was not subject to the approval of Major League Baseball or its clubs.