Melvin, A's have 'great humor' about sewage issue
Melvin, A's have 'great humor' about sewage issue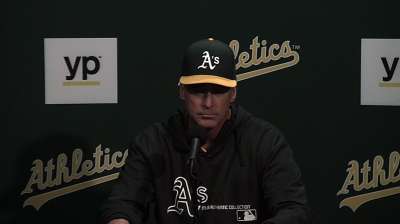 OAKLAND -- As A's manager Bob Melvin took a seat amid reporters Wednesday morning for his daily media session, he was also joined by a few extra visitors.
Less than two hours before first pitch, Coliseum workers were still cleaning up the sewage mess from the bathroom in the A's dugout that initially arose during the sixth inning Tuesday night. Turns out a blue rag flushed down the toilet was the culprit, leading to the stadium's second sewage issue of the season.
In June, sewage invaded both clubhouses, forcing the A's and Mariners to shower together in the Raiders' locker room.
Still, A's owner and managing partner Lew Wolff insisted, "We're making a bigger issue out of it than it really is."
"It's not fair to all the people at the Coliseum, all of the staff here, who work hard to keep this place going," Wolff continued. "We haven't had that many problems of that nature. That could happen in your house."
"It's more a distraction during the middle of a game, but everyone had great humor about it," said Melvin. "It's not the first time something like that has happened here. It certainly didn't affect anyone during the middle of the game, nor would it now. I think, we, to an extent, got a kick out of it. It just made me move out of a superstitious spot more than anything else."
Wolff has long yearned for his club to move out of the 45-year-old Coliseum in favor of a new stadium in a better location. But his plans to move to San Jose have stalled while waiting for approval from Major League Baseball.
In the meantime, the A's will have to make do with what they have, even if it means keeping a plumber on speed dial.
"You're looking at him," Wolff cracked. "If I have to, I will."
"It wasn't as bad as it looked, but it's still bad," catcher Derek Norris said. "It's part of the things you have to deal with here. It's not fun. It's not awesome. But we have to just keep playing, and hopefully some day we'll move into a nice new stadium that doesn't have health hazards all over the place."
Jane Lee is a reporter for MLB.com. Jeff Kirshman is an associate reporter for MLB.com. This story was not subject to the approval of Major League Baseball or its clubs.