Melvin confident Cook will snap out of skid
Melvin confident Cook will snap out of skid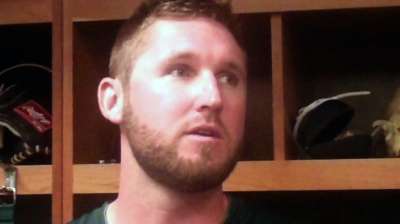 OAKLAND -- Ryan Cook is in a rare funk, and the A's are doing everything they can to help him out of it.
Oakland's chief right-handed setup man was throwing off the mound early Friday afternoon under the close watch of manager Bob Melvin and pitching coach Curt Young, who sorted through video and picked out a couple of mechanical adjustments for the reliever to work on.
Melvin wouldn't go into detail on these but said, "I think over the course of the year, you're always looking to make some adjustments, mechanically, whether you're a hitter, whether you're a pitcher, and you're trying to find out what works well for you.
"You go back and you look at video, and maybe there are some things that have gotten a little bit out of whack. Curt is really good about addressing some of those things, and he was working on some of those things."
Cook allowed two runs on two hits and a walk in one-third of an inning on Thursday night, giving up a lead the A's would ultimately gain back in an 8-6 victory. That brings his total to five runs over his past five appearances, after yielding a total of three earned runs in his previous 29 games.
Even going back a couple of weeks, Cook has allowed 20 hits over his last 12 appearances spanning eight innings. Opponents are hitting .455 (20-for-44) with a .510 on-base percentage during that stretch.
"He went through one of these last year and got through it," said Melvin. "He's a competitor, and it bothers him that he's not contributing how he would like to. He's going to fight his way through it. Everyone goes through it over the course of the season. I can't remember anybody who's been perfect for a whole season. He'll get through it. Sean Doolittle went through a little bit of a tough time, and he got through it. So will Cookie."
Cook's lone rough patch of his 2012 All-Star campaign lasted from July 19 through Aug. 8, spanning eight appearances. In that time, he gave up nine earned runs on 14 hits in nine innings. He proceeded to give up runs in just one other outing the rest of the way.
That's why Melvin believes, "it's only going to take one good outing for him to get back and off to the races again."
"It's not like all of a sudden he's throwing 91 mph. His stuff is good," Melvin said. "If we felt like he was hanging his breaking ball every time, he was getting so far out of whack that his velocity was going down, then we'd have a real issue. I think it's just about him not worrying about some of the stuff that goes on."
Like Thursday, for example. Cook allowed a pair of ground-ball hits, then got an out before unleashing a wild pitch and walking his next batter, leading to his departure.
"Now you start to say, 'OK, here we go again.' Those are the things he's gotta stay away from," Melvin said. "He just got a little frustrated with himself, and that's when you start thinking about what's transpired, and there's nothing you can do about that."
Melvin was undecided on whether he'd attempt to place Cook in a low-pressure situation his next time out.
"We'll see," he said. "I'm not sure yet."
Jane Lee is a reporter for MLB.com. This story was not subject to the approval of Major League Baseball or its clubs.