Barton gets start vs. lefty with Freiman still hurting
Barton gets start vs. lefty with Freiman still hurting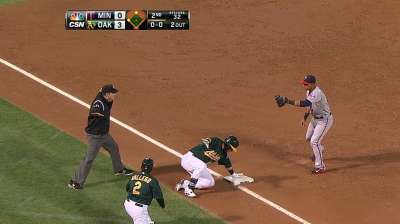 OAKLAND --Daric Barton once again received the start at first base for the A's on Saturday over right-handed-hitting Nate Freiman against Twins left-hander Pedro Hernandez.
The two usually share the position against lefties, but Freiman's return from an abdominal strain suffered four days ago is still up in the air, manager Bob Melvin said, adding that the 6-foot-8 rookie is unlikely to play until the team's next series at the earliest.
"These things you got to be pretty careful with," Melvin said. "Hopefully maybe next series, but not a piece today. Maybe he ends up taking some light swings today, but I don't think anything significant."
Freiman was reserved when asked about the ailment, saying he could return to swinging the bat soon but was uncertain as to when exactly that would be.
"It's getting better," he said.
The setback, along with Barton's strong play since rejoining the team on Aug. 26, won't do Freiman any favors when Melvin looks to set his postseason roster.
Jeff Kirshman is an associate reporter for MLB.com. This story was not subject to the approval of Major League Baseball or its clubs.