Crisp reaches 20-20 mark in division clincher
Crisp reaches 20-20 mark in division clincher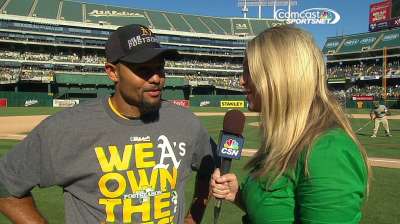 OAKLAND -- If you were to predict that Coco Crisp would hit 20 home runs and steal 20 bases in the same season, you'd think the stolen bases would be a given and far exceed his production of the long ball.
But at 33 years old, Crisp has hit a career-best 22 dingers this year, and he didn't record his 20th steal until the sixth inning of Sunday's 11-7 win over the Twins.
"That's truly a surprise," Crisp said. "I've hit home runs and in shortened seasons when I've been injured, I've put up decent numbers. But to actually reach the number where I'm at now, I'm very grateful, it is a little shocking, but I'm glad I've been helpful."
Crisp became just the 10th player in A's history with 20 home runs and 20 steals in a single season, with Ruben Sierra the last to do so in 1993. He had one of each Sunday, belting a three-run game-breaking shot in the second inning before later swiping second base.
The veteran center fielder has been a one-man offensive onslaught for the A's of late, hitting an American League-best seven home runs in September with 30 runs, four doubles, one triple, 12 home runs and 24 RBIs over his past 28 games.
He has recorded seven stolen bases in his last 79 games after stealing 13 in his first 46 contests.
Jeff Kirshman is an associate reporter for MLB.com. This story was not subject to the approval of Major League Baseball or its clubs.