Norris keeps showing pinch-hitting power
Norris keeps showing pinch-hitting power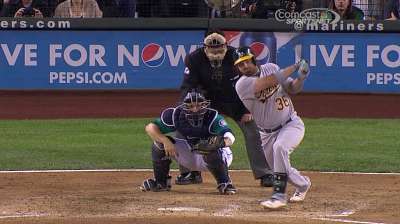 SEATTLE -- Derek Norris hit his third pinch-hit home run of the season in Friday's 8-2 win over the Mariners, making him the first A's player to do so since 1982, and just the fifth in club history. All three of Norris' hits as a pinch-hitter have gone deep, driving in five runs for Oakland. Although he is only batting .200 as an offensive substitute, he has an OPS of 1.094.
Manager Bob Melvin credits Norris' success to the slugger's focus and preparation, as well as the tendency to use a pinch-hitter in aggressive situations with favorable pitching matchups.
"He knows when the situation potentially comes up and a lot of that really combats the [obstacle of] not being in the game," Melvin said. "Pinch-hitting can be a hard thing to do sometimes, but if you know ahead of time, you're prepared for it mentally and then you go in the cage, take some swings and you're even more prepared when you go out there."
Norris admits that while it's nice to have had some success in the role, he's a long way from becoming a master of pinch-hitting.
"I've had some success and I'll credit some success to the fact that I've just gotten some decent pitches to get and I haven't missed them," Norris said. "But as far as, 'I've figured out this whole pinch-hitting thing,' never.
"Because this is the hardest thing to do in all of sports is hit a baseball, and to hit a baseball out of the ballpark is very, very tough to do. If you think about hitting a round ball and a round bat squarely, it doesn't make a lot of sense."
Jacob Thorpe is an associate reporter for MLB.com. This story was not subject to the approval of Major League Baseball or its clubs.