Cespedes' status for ALDS Game 1 up in air
Cespedes' status for ALDS Game 1 up in air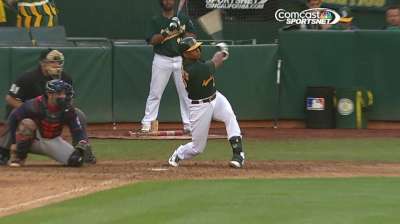 OAKLAND -- Yoenis Cespedes' workout on Tuesday at the O.co Coliseum resembled that of a designated hitter, but A's manager Bob Melvin still has hopes for the right-handed slugger to start in left field in Game 1 of the American League Division Series against the Tigers on Friday at 6:30 p.m. PT on TBS.
Cespedes took batting practice Tuesday for the first time since Friday, when he left the A's game in Seattle after just three innings because of soreness in his ailing right shoulder, which primarily affects Cespedes' ability to throw while patrolling the outfield.
The goal is for Cespedes to throw during Wednesday's workout, and if all goes well, increase his workload assuming there's no soreness or setbacks. Brandon Moss is a likely candidate to fill in for Cespedes in left field on Friday if he isn't able to play, with Daric Barton manning first base.
"We're hoping to get him in the outfield," Melvin said. "Whether that's on Friday, I'm not sure yet. Just based on his comments and talking to him and how he feels right now, I think there's a reasonably good chance that at the very least he'll be DHing on Friday."
Cespedes had started seven straight games at DH prior to his shortened start on Friday. He was a significant contributor to the A's second-half push, hitting .314 with 12 runs, six home runs, 19 RBIs and 11 multihit games in 22 September games after batting .237 or lower over the first five months.
The A's are 83-50 with him in the starting lineup compared to 12-15 when do does not start, though Melvin showed little concern over whether Cespedes would be in the lineup in at least some capacity.
"It's just not his bat," Melvin said. "It's everything he does in the outfield -- the range that he has, the throwing capabilities, all of the above. We'll take what we can get, but hopefully we can get him in the outfield."
Jeff Kirshman is an associate reporter for MLB.com. This story was not subject to the approval of Major League Baseball or its clubs.