Chavez begins roster audition on Game 1 of spring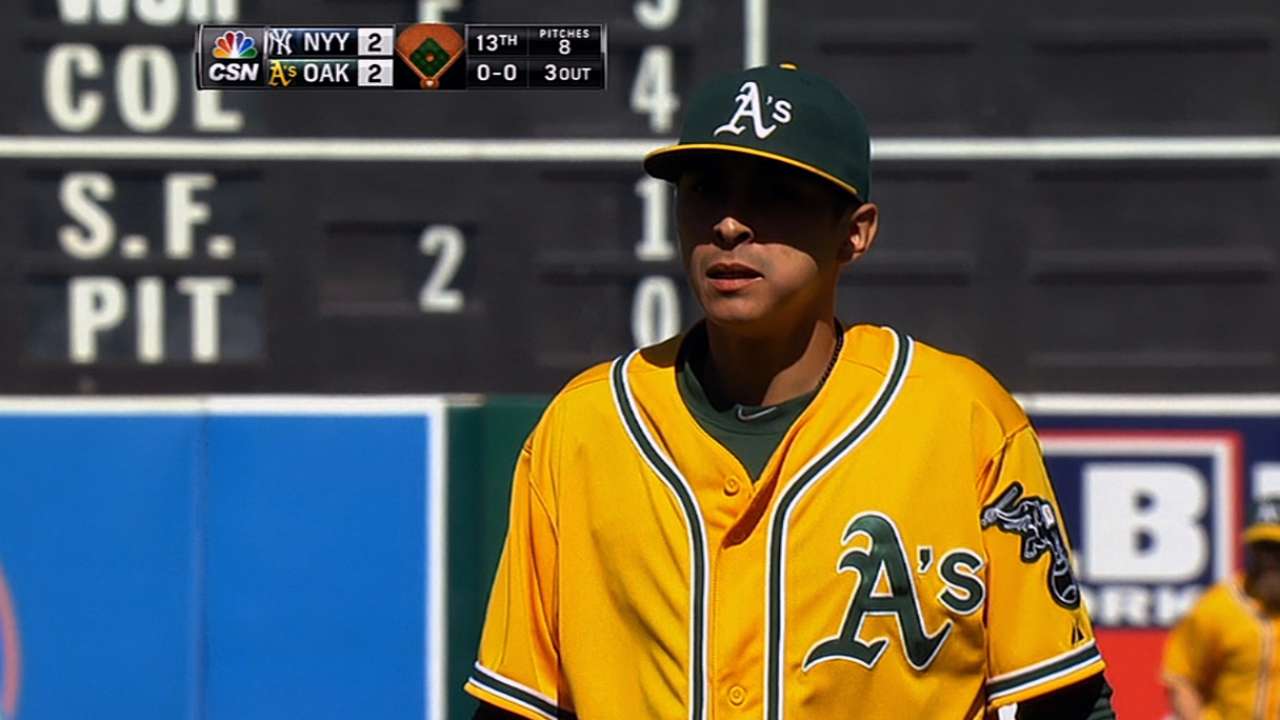 PHOENIX -- When the A's take the field Wednesday afternoon for their Cactus League opener, right-hander Jesse Chavez will be center stage, starting against the Giants as he begins his quest to earn a spot on Oakland's notoriously deep pitching staff.
A journeyman who owned a 5.99 ERA over parts of five seasons in the Majors before last year, Chavez enters the spring with a sense of validation after he finished 2013 with a 3.92 ERA and 55 strikeouts in 57 1/3 relief innings for the A's.
"Last season gave me that added boost of knowing that your stuff can play in the Majors; that you can get big league hitters out," Chavez said. "That hadn't been the case the previous couple years, so it was a good thing to experience, because just knowing that you can have success helps a lot. Now it's more, 'Why not try and do better?' So I'm going to take what I did last year, learn from the positive and negatives, and hopefully build off it."
Chavez, who also posted a 2.70 ERA in five starts for Triple-A Sacramento last year, credits much of his improvements to his work on the mental side of the game. Earlier in his career, the righty would try to overpower hitters but often would miss his spot and pay for it. Last year, he tabled those thoughts and instead placed more trust in his stuff, not worrying about throwing so hard or being too perfect.
"I was just able to be me," Chavez said. "I had been in my head too much in the past, so I just focused on throwing strikes and doing what I had been doing in Triple-A. When you think too much on the mound, it works against you."
Enamored with Chavez's varying four-pitch arsenal of fastball, cutter, changeup and curve, the A's have certainly noticed the 30-year-old's strides, with manager Bob Melvin giving a glowing report of how well the swing pitcher is doing this spring.
"He looks to me, right now, like the season is starting," Melvin said. "He's a guy that we can always count on, and he's come into camp with absolutely the right mindset. He is focused every day; that's one of the reasons it was easy to give him the start on the first day."
Tyler Emerick is an associate reporter for MLB.com. This story was not subject to the approval of Major League Baseball or its clubs.