Nakajima preparing to fill in for injured Russell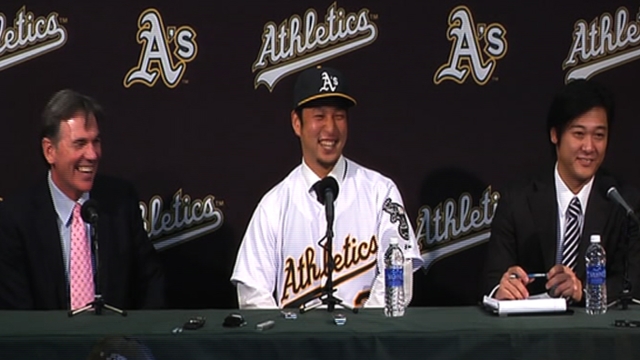 PEORIA, Ariz. -- In Minor League camp this spring, just a year after signing a $6.5 million contract to become the A's everyday shortstop, Hiroyuki Nakajima suited up for the big league club on Tuesday and could see steady playing time in the coming days following Addison Russell's hamstring injury.
"It will be nice to see him over here some," A's manager Bob Melvin said. "Maybe this year he'll be a little bit more comfortable than his first. And you would think anybody that's more comfortable would have a better chance to succeed more."
Last spring, in his first taste of baseball in America, Nakajima struggled to adjust defensively, committing four errors in 17 Cactus League games for a .917 fielding percentage. His bat didn't help either, as he hit just .167 in 42 at-bats. The A's ended up bringing in veteran shortstop Jed Lowrie and Nakajima, who sustained a hamstring injury in Spring Training, spent the entire 2013 season in Triple-A Sacramento.
There, Nakajima's game started to come around, as he finished the year with a .283 average while splitting playing time at short, second and third. To his credit, the 31-year-old's attitude never went sour.
"Everything that I heard was, he was terrific," Melvin said. "He worked hard, he never complained. He went the extra yard to try to acclimate and get involved with his teammates. With the obvious issues that he has that nobody else does, he did everything he could. He's a very good kid."
Spending a season in the Minors in a foreign country after initially thinking he'd be in the big leagues, Nakajima could have understandably returned to his successful career in Japan. Instead, he is persevering with the hope that he'll someday play in Oakland.
"I want to just play hard every day," said Nakajima through a translator. "Physically, I feel good right now. I just want to play hard and then get the results in the Minor Leagues to be able to get called up."
Nakajima entered the A's game on Tuesday against the Padres in the bottom of the seventh inning as a defensive replacement. He didn't get an at-bat, but he had a couple balls come his way in the infield. He fielded a stolen-base attempt, and then a line drive deflected off his glove before he caught a forceout at second a batter later.
Melvin said Nakajima could be used at other positions this spring, despite being most comfortable at short.
Asked what would need to happen for Nakajima to reach the Majors this season, Melvin noted the club's depth, but added that he didn't want to rule any possibility out.
"There would probably have to be some injuries to some guys we have here," Melvin said. "But who knows? If he gets an opportunity, who knows what happens down the road? We never got to see him play in a big league game, just Spring Training. Anything can happen in baseball, he realizes that. That's why he's here working as hard as he is."
Tyler Emerick is an associate reporter for MLB.com. This story was not subject to the approval of Major League Baseball or its clubs.