A's send Lindblom, Leon, Freiman to Minors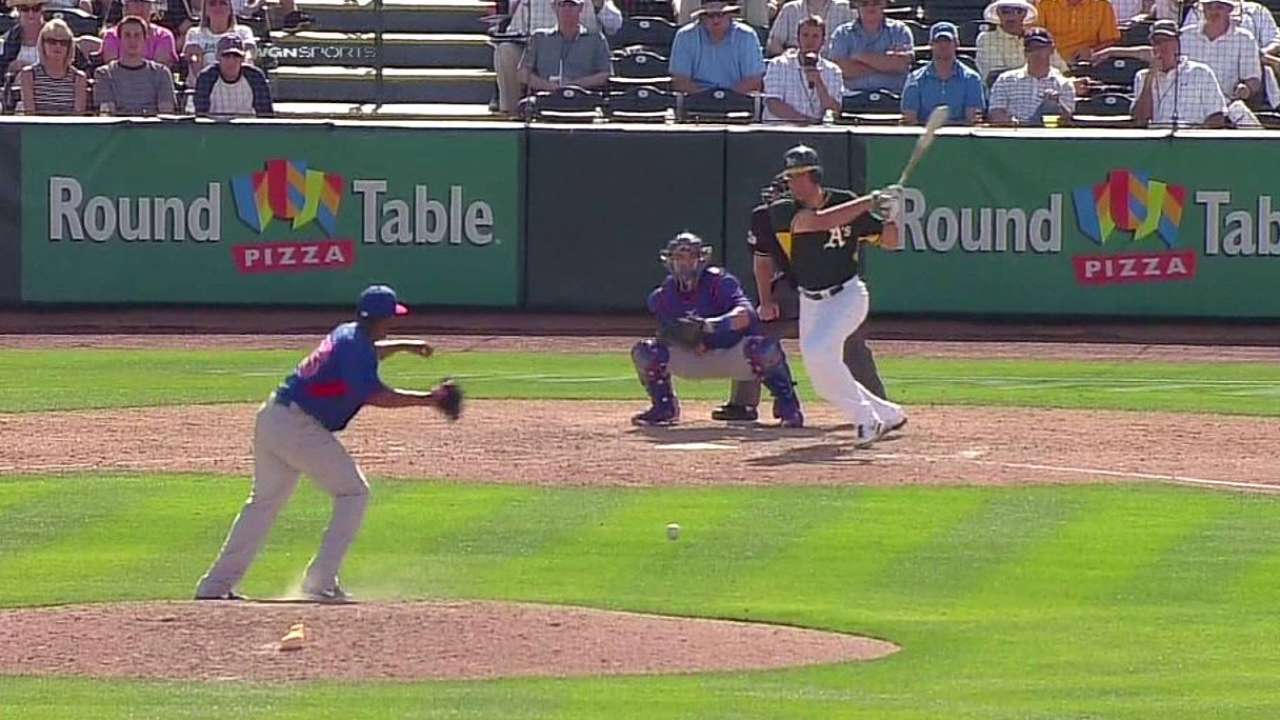 PEORIA, Ariz. -- The A's on Sunday whittled down their roster to a group that's expected to travel to Oakland for the upcoming annual Bay Bridge Series.
Oakland optioned right-handers Josh Lindblom and Arnold Leon and first baseman Nate Freiman to Triple-A Sacramento following Sunday's split-squad games, leaving the club with 35 players in camp.
Lindblom and Leon will be stretched out with the River Cats and provide the big league club needed starting-pitching depth. Lefty Drew Pomeranz remains in camp but is expected to do the same.
Lindblom opened with four no-hit innings in a start against the Mariners on Sunday before allowing a two-run homer in the fifth in an otherwise-impressive outing.
"Two down in the rotation, we need some depth behind them," said manager Bob Melvin, "so the decision was either use him for length or stretch him out, and we feel like we need to stretch him out and have him ready to start."
Freiman was on the A's 25-man roster for the entirety of the 2013 season -- minus a brief DL stint -- in part because they would've lost him as a Rule 5 pick if he was taken off it. He performed well in a platoon role at first base, but the A's would like to further groom him at Triple-A now that they can do so without any repercussions.
"He just needs to go down and develop and get at-bats against lefties, righties, everybody," Melvin said. "A young guy like that needs to get some at-bats and play against right-handers as well."
Based on Sunday's news, it's fairly certain that Cactus League fan-favorite Billy Burns will get the chance to play in a big league park during Oakland's three-game exhibition series with the Giants on Thursday, Friday and Saturday. The speedster is batting .313 with a team-leading 20 hits and 10 stolen bases, and also leads in at-bats with 64, eight more than anyone else.
Following the Bay Bridge Series, Burns is expected to be optioned to the Minors, with Oakland already carrying Yoenis Cespedes, Coco Crisp, Josh Reddick and Sam Fuld as its four outfielders.
"We always felt like this was a guy we wanted to take a hard look at," said Melvin. "Obviously we didn't expect him to get as many at-bats at this point. But he's impressed, definitely. I don't know that he would've thought this would happen for him, but he's earned every bit of it."
Jane Lee is a reporter for MLB.com. This story was not subject to the approval of Major League Baseball or its clubs.