A's have fond memories of Phoenix Muni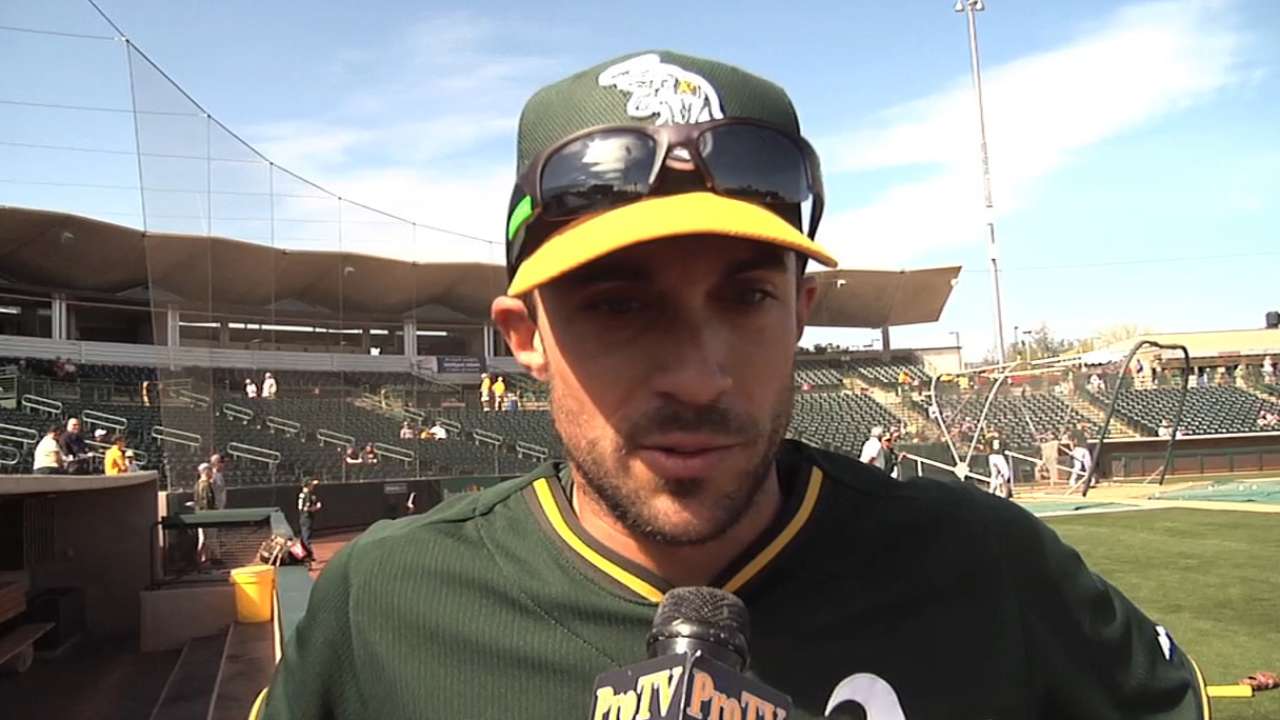 PHOENIX -- Daric Barton will miss the monkeys most.
The monkey exhibit at the Phoenix Zoo is just across the street from where A's players pull into Phoenix Municipal Stadium, and they often hear the primates in the morning. The A's will leave behind the zoo and decades of history when they move to nearby Mesa and Hohokam Stadium next year.
"This is really the only place I've known," Barton, in his 10th big-league camp, said Wednesday, before the team's final game at Phoenix Muni, as it's affectionately known.
Steve Vucinich, the team's longtime equipment manager, threw out the ceremonial first pitch. The entire team watched from the top step of the dugout and afterward formed a tunnel as Vucinich made his way back to the clubhouse.
The A's moved to Phoenix Muni in 1982 and later the neighboring Papago Park training complex. The Giants trained in Phoenix before swapping spring facilities with the A's.
"It's as scenic of a place as you're going to find, and the way it kind of sits down, yet you can still see it from the road, there are some characteristics to this place that are special," manager Bob Melvin said. "I don't want to compare it to a Wrigley Field or Fenway Park, but as far as Spring Training parks go, there are some characteristics to it at that make it unique."
"I think this place is pretty synonymous with the A's over the years, even the days I was with the Giants," Melvin said. "I remember sitting over here watching batting practice, watching Canseco and McGwire and those guys hit balls up on the street. We've been here for quite a while, and in that respect, it's a little sad. But then hearing about the facilities that we're going to have in Mesa, we're looking forward to that, because they're pretty limited here."
Mesa is putting $17.5 million into upgrades at the Hohokam and Fitch Park facilities that were home to the Cubs until this year. The A's are expected to move in by the end of the year.
"This is going to be a whole different game for us," Ted Polakowski, A's director of Minor League operations, said earlier this month during a tour of the under-construction facilities. "We have a lot of history in Phoenix but sometimes it's time to move on to something different."
Barton feels the same.
"It's been fun but I think we're all looking forward to getting a new place," he said. "I don't want to say a better place, but a different place."
Chris Gabel and Jane Lee are reporters for MLB.com. This story was not subject to the approval of Major League Baseball or its clubs.