Punto joins initiative to Strike Out Cancer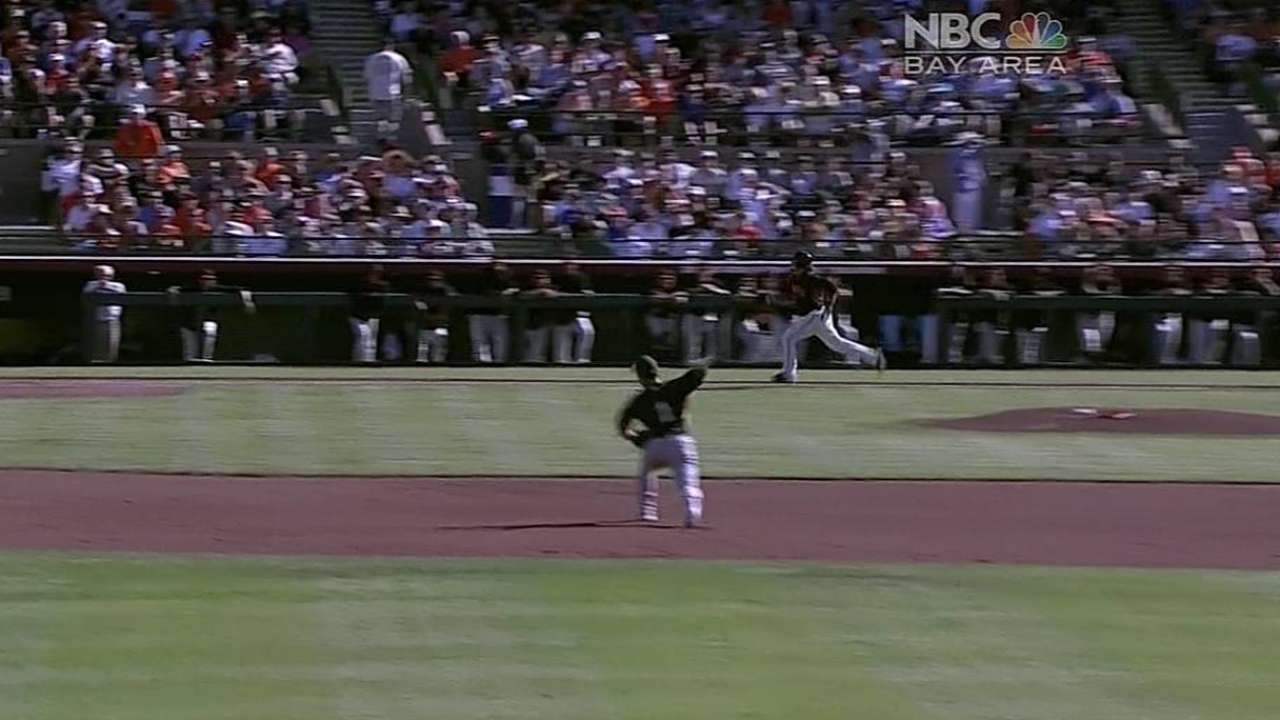 New A's infielder Nick Punto, inspired by a charitable cause near his home in Orange County, is serving as something of an unofficial team ambassador for a Strike Out Cancer initiative launched by Cardinals reliever and former teammate Jason Motte.
Motte, with help from the Major League Baseball Players Association, has recruited a member from each club to distribute T-shirts emblazoned with a backward "K" above the word "cancer." Punto and several other A's players have begun wearing the shirts, theirs customized in green and gold.
The website 108stitches.com went live on March 17, with 108 Stitches showcasing the "Strike Out Cancer" tees in each team's colors. Each is promoted by a different player who agreed to join Motte in a partnership that will benefit multiple charities. Each participating player has chosen a charity that will benefit from the T-shirts sales, and for each shirt sold, $5 will go to the Jason Motte Foundation and $5 to a charity of that player's choice. A full list of recipient charities will be listed on the 108 Stitches website soon, along with a photo of each player rep in his team-colored shirt.
"At the end of the day, it's about reaching people," Motte said. "Baseball is great and everything, but there are other really important things going on out there that affect a lot of people. Wearing these T-shirts shows people that they're not alone. They're not sitting there doing chemo by themselves where no one cares. People do care, whether it's friends, family or baseball players. There are people who this has touched and this has affected. This is something we're trying to do to get the word out there and try to raise money to help."
Punto easily opted to donate funds to NEGU -- an organization that stands for "Never Ever Give Up!" inspired by Jessica Rees, who died at age 11 in 2012 following a 10-month battle with two brain tumors.
"She just had this unbelievable attitude for all the children that were in the hospital who were sick," said Punto. "She said, 'Dad, do you care if I take some of my things and give them to some of the other kids at the hospital who are sick?'"
Such gifts became known as JoyJars. Through the foundation, they are now distributed to hundreds of young patients and include new toys and activities.
Rees' father is the pastor at the church Punto attends with his family in Southern California.
"She was a really big influence in Orange County," he said, "and it was easy to get attached to their efforts after just one hospital visit. Me and my wife got to know her father really well, and he was such an inspiration. Losing a child is something no parent ever should have to go through."
Chris Gabel and Jane Lee are reporters for MLB.com. This story was not subject to the approval of Major League Baseball or its clubs.