Pomeranz potential option for long-relief role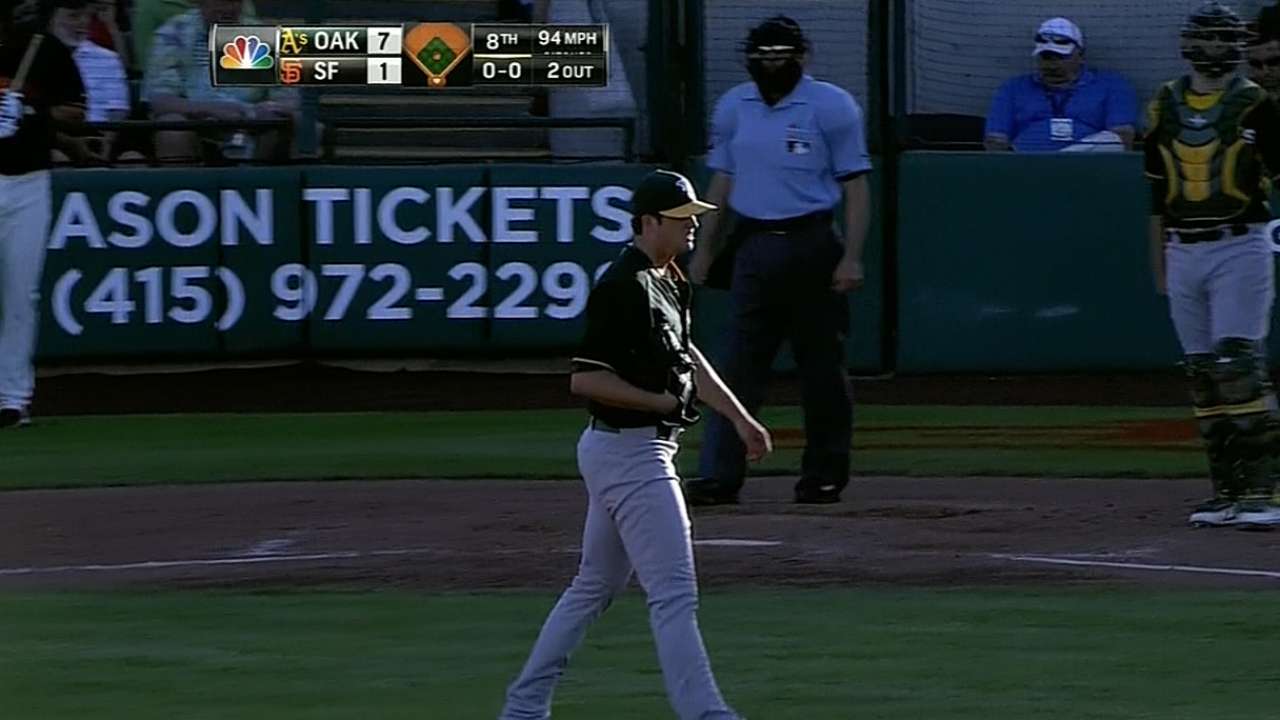 SAN FRANCISCO -- Among all the moves that Oakland general manager Billy Beane made this offseason, perhaps the acquisition of Drew Pomeranz fell under the radar. But don't count out the talented lefty, who possesses a mid-90s fastball and has shown a better grasp of his offspeed stuff with the A's during Spring Training.
The A's received the 25-year-old Pomeranz from the Rockies for oft-injured but talented southpaw Brett Anderson in December. Now, Pomeranz is poised to make Oakland's bullpen.
"Based on what he's done this spring, he's given himself a great chance to make this team," manager Bob Melvin said, adding that no roster cuts will be made until the weekend.
With Jesse Chavez moved from the bullpen to the starting rotation, Melvin added that Pomeranz would likely be stretched out into the long-man role if he makes Oakland's roster, while he would likely be a starter if he ends up in Triple-A.
Since being drafted fifth overall in 2010 by the Indians, high expectations have followed Pomeranz, but he's never been able to translate them into MLB success. In 34 big league appearances, including 30 starts, Pomeranz has a 4-14 record, 5.20 ERA and 1.54 WHIP with a K/9 ratio of 7.6 and BB/9 ratio of 4.6.
Though he's always had the ability to strike batters out, Pomeranz's control during Spring Training is what has him and his manager excited most. In 12 2/3 innings of work this spring, Pomeranz has a 2.84 ERA and 1.26 WHIP while striking out 20 and walking just three.
"Probably more happy about the walks," Pomeranz said. "Normally my problem's been throwing strikes, staying ahead of guys and walking a lot of people. It's great to strike people out, but I'd much rather just not walk anybody."
Pomeranz said he's enjoyed the change of scenery from Colorado to Oakland, citing his new organization's laid-back approach as a key to his success. No major changes to his delivery, but they "just kind of let you do your thing."
"I think I've pitched pretty well and I've gotten better every time out," Pomeranz said. "I think I've accomplished what I came in here wanting to do, which is throw strikes and be more consistent and get guys out."
Meanwhile, it seems like Fernando Abad could have a hold on one of the final two bullpen spots that seem up for grabs behind closer Jim Johnson, setup men Sean Doolittle and Luke Gregerson, and middle relievers Dan Otero and Evan Scribner.
"Definitely has put himself in a position to possibly make the team," Melvin said of Abad.
Alex Espinoza is a contributor to MLB.com. This story was not subject to the approval of Major League Baseball or its clubs.