Out all of spring, Cook rejoins A's bullpen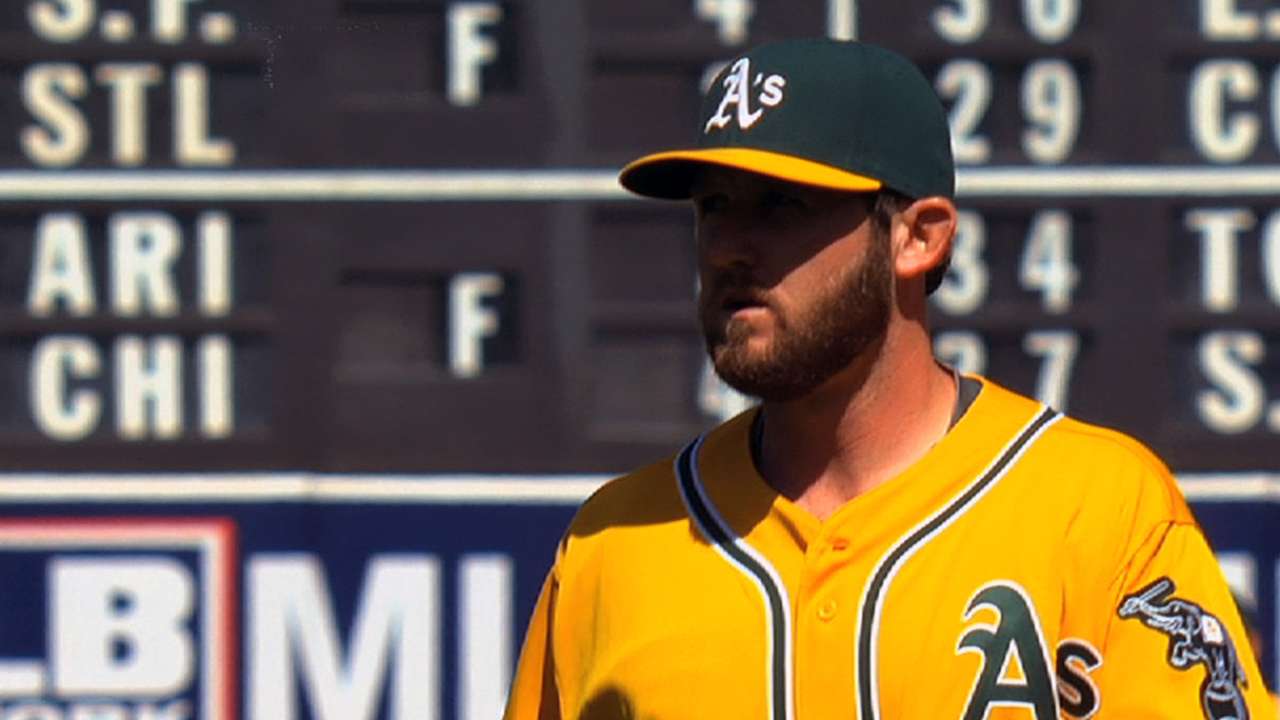 MINNEAPOLIS -- The A's got Ryan Cook back from the disabled list on Monday and optioned another righty reliever, Evan Scribner, to Triple-A Sacramento.
Cook was sidelined for the entirety of Spring Training because of right shoulder inflammation, but he only needed to miss the first week of the regular season after making a handful of rehab outings, including two with Class A Stockton.
The hurler was thrown into game action right away, getting the call in the ninth inning with a five-run lead in Monday's 8-3 win in Minnesota. Cook struck out his first batter and walked his next two before calming down and getting two more outs -- the last another strikeout.
"He was real fired up," said batterymate Derek Norris. "He had a lot of adrenaline pumping through his veins, and I can only imagine the wait he had to go through all spring. But once he settled down, he threw the ball real well. It was coming out very hot, very, very hard with good sink, and his slider was the best I've seen it in a long time, including stages of last year, so things to build on for sure. It was nice to see him out there."
Scribner did not allow a baserunner in two appearances, retiring all four batters he faced last week. The right-hander has gone back and forth between Oakland and Sacramento often in his career, having endured five separate stints with the A's last year and three the year before.
"That was difficult, and he certainly didn't do anything to get demoted," said Melvin. "Those are always the tough ones, and I've been the guy that's had to give him the bad news several times over his career here. That was the case again, because we really do feel like he's part of this team."
Jane Lee is a reporter for MLB.com. This story was not subject to the approval of Major League Baseball or its clubs.