Norris' timing improves as reps at plate increase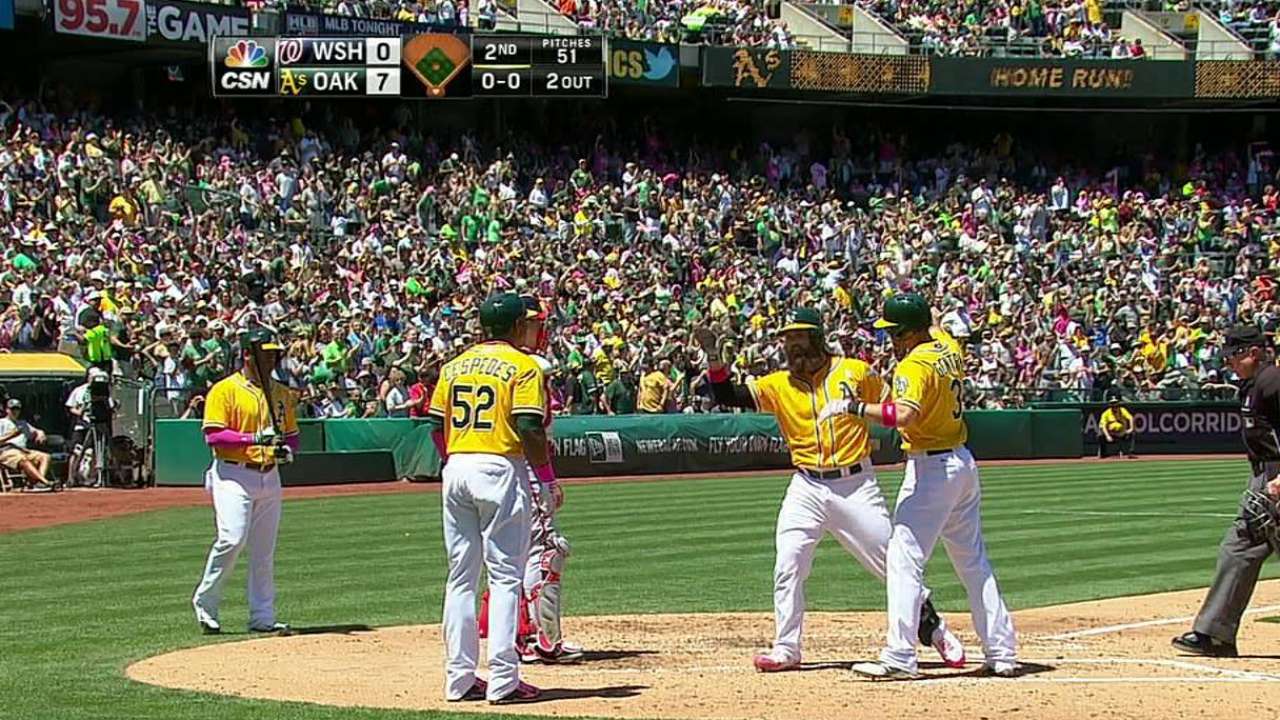 ST. PETERSBURG -- Consistent production has led to consistent playing time for Derek Norris, who, in turn, is showcasing greater pitch recognition.
Norris isn't just hitting a ton. He's walking a lot, too, and at a rate higher than he did last year.
Entering Wednesday, the A's catcher led the team with an average of 6.39 plate appearances per walk. In contrast, he is striking out just once every 8.85 trips to the plate, good for third on the team. Last year he averaged 8.32 plate appearances between walks, with 4.34 between strikeouts in 304 total trips to the plate.
This year, he already had 115 plate appearances before Wednesday.
"Anyone in here can tell you, when you're in there every day, you get better pitch recognition, better timing, you trust your hands, you trust your body more, you trust the game more," Norris said. "It's just a comfortability thing.
"When you don't play for a couple of days, you get in there, you have to see a couple of pitches out of the hand to get that back. When you're in there more often than not, you don't have to do that."
As a result, Norris is actually averaging fewer pitches per plate appearance (3.86) than he took last year (4.26), even after his 14-pitch battle with Rays righty Jake Odorizzi on Tuesday. He saw 30 pitches total on the night and drew a career-high-tying three walks, despite not feeling great at the plate, he said.
"I could've very easily gone 0-for-4 last night, and I turned that into an 0-for-1 with three walks and eliminated three outs," Norris said. "I feel like I'm seeing a lot of pitches, but I don't feel like I have to waste as many pitches seen.
"When you're in there consecutively, you're in there against righties and lefties and seeing the ball at all angles all the time and watching a pitch, that to me is a wasted pitch. That pitch right down the middle, you don't have to take it. You can, but before, when I wasn't playing often, it would've been automatic. Now, I'm in there, and if it's right there in the happy zone, I'm gonna go ahead and swing."
Just like he did last week on two 3-0 pitches from Washington's Gio Gonzalez he belted for three-run homers.
"Last year," he said, "I would've taken both of those pitches, just because I wouldn't have trusted it."
Jane Lee is a reporter for MLB.com. Read her blog, Major Lee-ague, and follow her on Twitter @JaneMLB. This story was not subject to the approval of Major League Baseball or its clubs.