Blanks, A's enjoying time together since trade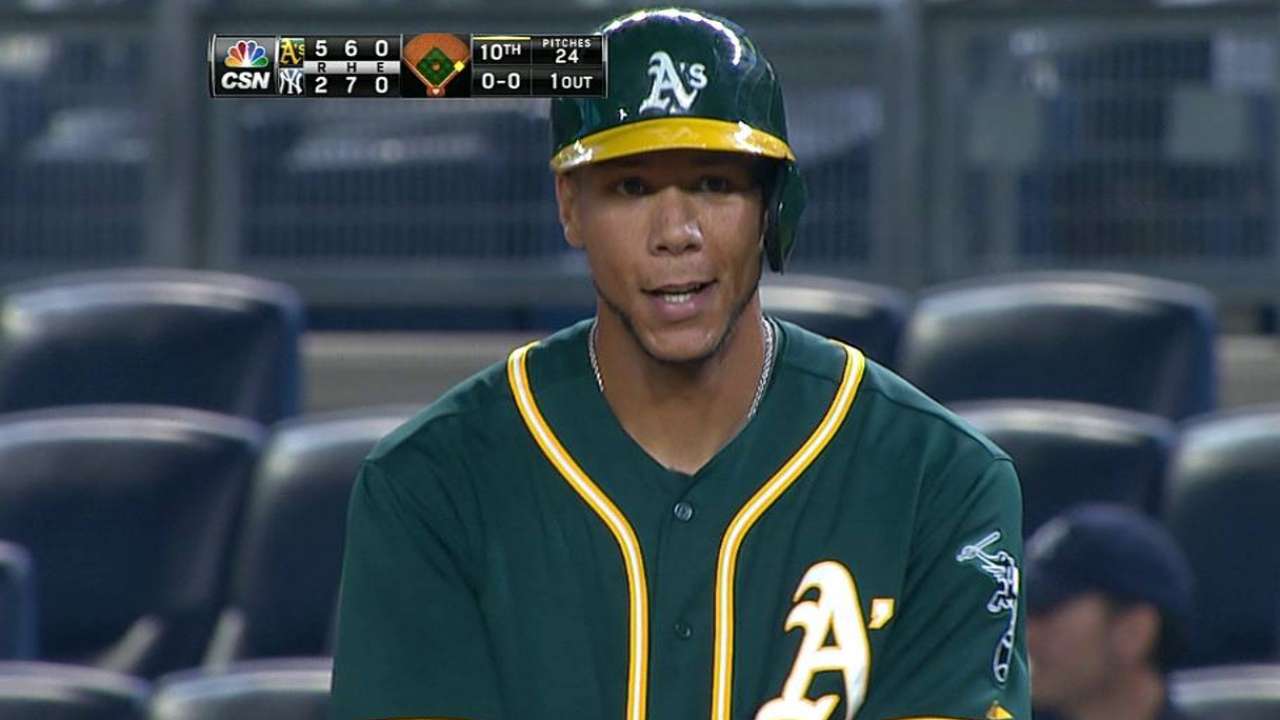 NEW YORK -- Each day, Kyle Blanks learns something new about the A's, the newest team in his nine-year career. The observations from Blanks have all been positive and he has noticed the uplifting chemistry in the clubhouse.
Blanks, a journeyman for the majority of his career, has appreciated the A's allowing him to play first base and get in a rhythm at the plate. Blanks has rewarded their faith with strong production in his short stint with the club.
Although he was not in Thursday's lineup, Blanks has been reliable in his 16 games with the A's. He has recorded at least one hit in his last six games, and has a .303 average. Blanks has also displayed his power with two homers in his last five games.
Blanks' teammates continue to impress him while being a good influence on his attitude each day.
"I think this team has the feel where it's like a summer ball team," Blanks said. "Everyone is good. Everyone has fun. Everyone gets along. It's a very unique dynamic to where coming to the field every day is a fun day. It doesn't really feel like work. It's a pretty special team."
The A's acquired Blanks from the Padres in a trade on May 15 -- sending Minor League outfielder Jack Goebbert and pitcher Ronald Herrera to San Diego. A's manager Bob Melvin said the club needed Blanks to provide more plate discipline as a right-handed hitter. Blanks' defense at first base, and in the outfield, was a considered a bonus. He has not recorded an error this season.
"He's done a terrific job for us," Melvin said. "Very athletic for a big guy and can play that outfield, and have some versatility. He's hit a couple of homers for us and he's even got some decent at-bats against some right-handed pitching, too. He's been a nice upgrade for us."
Nate Taylor is a contributor to MLB.com. This story was not subject to the approval of Major League Baseball or its clubs.