A's select hard-throwing Graves in third round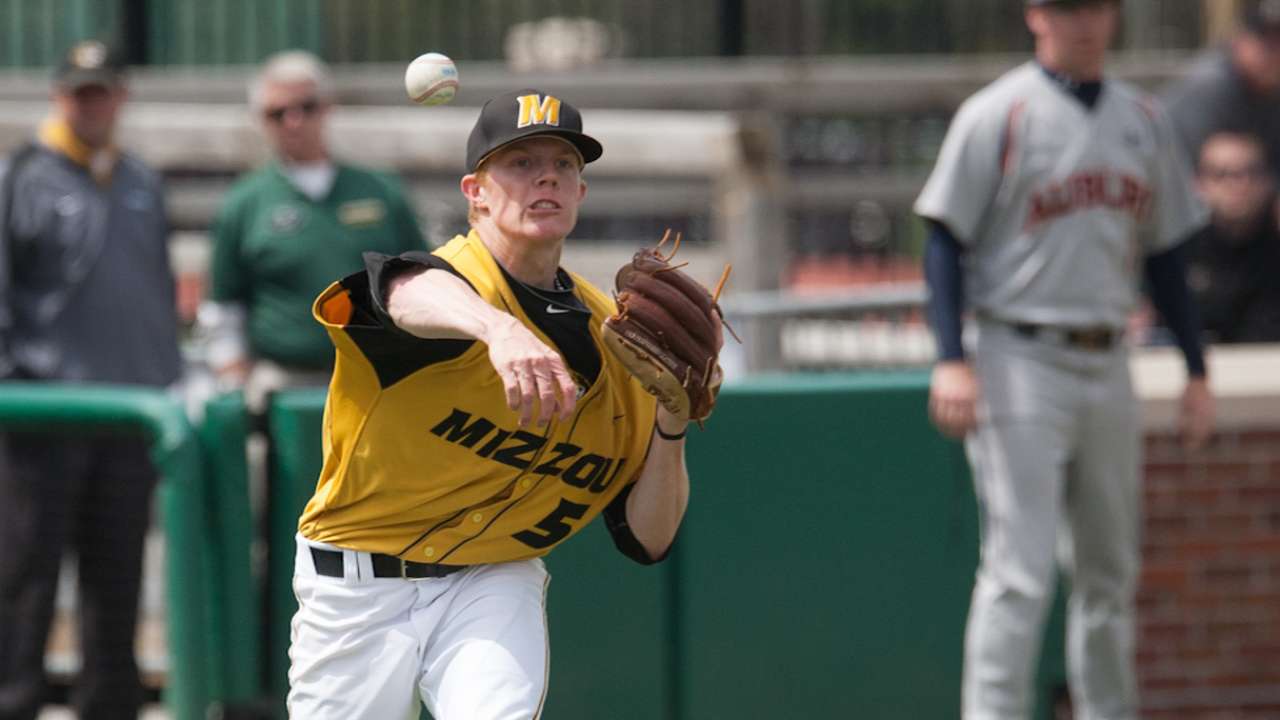 The A's took right-handed pitcher Brett Graves with their third-round pick in the First-Year Player Draft on Friday.
Graves, a junior from the University of Missouri, was originally drafted out of high school by the Cardinals in the 26th round in 2011.
Also recruited by college programs as a quarterback, Graves has turned heads with his powerful arm. The 6-foot-1, 190-pound hurler features a fastball between 92-94 mph that tops out at 97, as well as a hard slider and a changeup.
He started 14 games for Missouri in 2014, going 3-6 with a 3.87 ERA in 93 innings.
"Brett Graves is a guy we've seen a lot of dating back to high school," said A's assistant director of scouting Michael Holmes. "We've seen 90 to 96 [mph], he holds his [velocity] throughout a game, he's extremely athletic. We've seen an average to a plus changeup out of him and also the ability to spin the baseball, and we really like the way he competes and mixes his stuff. We think we've got a Major League starter."
The Draft concludes Saturday, with exclusive coverage of Rounds 11-40 beginning on MLB.com at 10 a.m. PT.
Graves grappled three years ago with the decision to pass up the Cardinals' offer, a choice made more difficult by the fact that he grew up in a home full of Cardinals fans in the St. Louis suburbs.
But he has no regrets about the decision he made.
"I think all along I kind of knew I wanted and needed to go to college and get to experience that and just kind of grow, grow physically and grow mentally," Graves told FoxSportsMidwest.com. "And I definitely am happy with the decision I made with that."
Graves ranked seventh in the Southeastern Conference this season in innings pitched, as well as 14th in strikeouts (64) and ninth in walks allowed (18).
The righty was a three-time All-State selection at Missouri's Francis Howell High School, where he was named the 2011 Missouri Gatorade Player of the Year after leading his team to a state title as a pitcher and a shortstop.
In the three years since then, he believes he's come a long way.
"I struggled a little bit early on [at Missouri], and I think I had to find out who I was as a pitcher, what made me successful and kind of solidify that and make sure that was never going to change," Graves said Friday. "I think everything's just improved across the board, whether it's the mechanics, fastball command or fastball velocity, my offspeed pitches are sharper and in command.
"Pretty evenly across the board, I've gotten better in every area. I can confidently say that, but also know that I've got a long way to go."
Aaron Leibowitz is an associate reporter for MLB.com. This story was not subject to the approval of Major League Baseball or its clubs.