MLB.com Columnist
Richard Justice
Cespedes' arm part of an amazing package
Oakland star shows he's more than just a slugger with a throw for the ages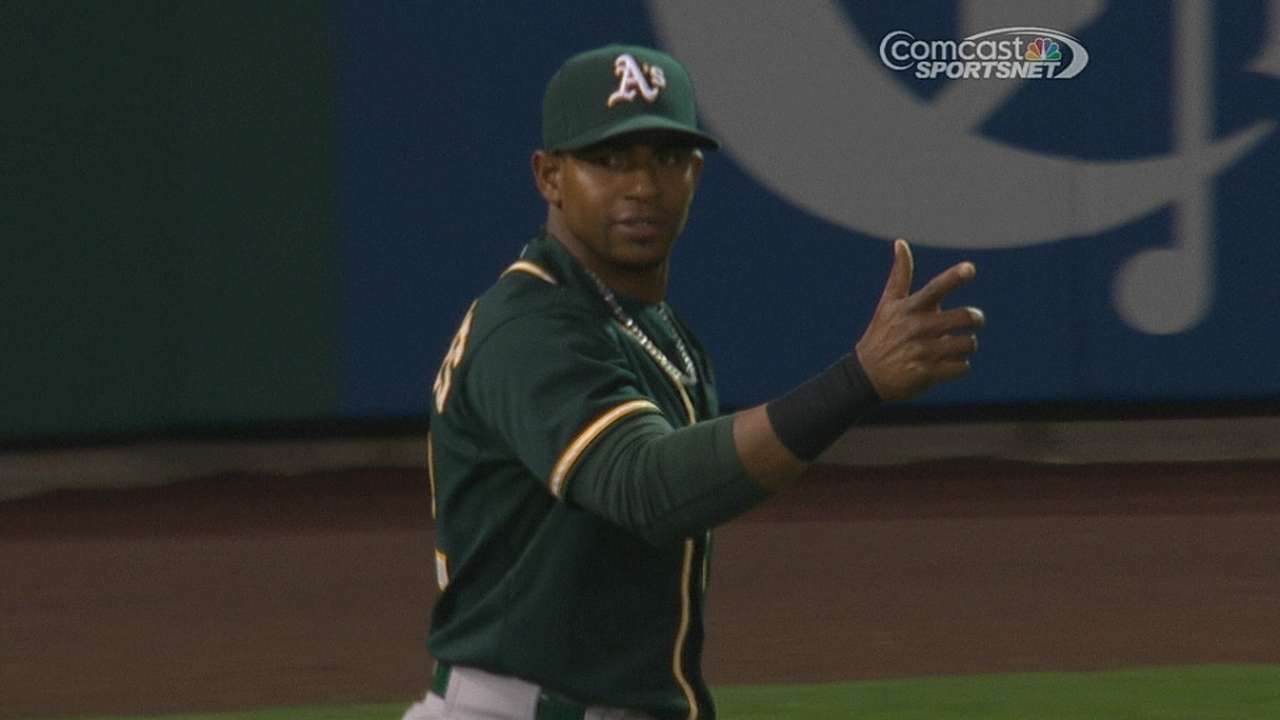 I've watched the throw Yoenis Cespedes made Tuesday night a half-dozen times. I'll probably watch it another half-dozen times by the time I finish writing this. We'll all watch it again and again, and then we'll attempt to put the thing into words.
There are none, really. You can watch Major League Baseball for a lot of years and not see an outfield play as spectacular as this one. Even now, it feels surreal, like it didn't really happen.
I mean, who has that kind of arm strength? And it came out of nowhere. Cespedes had bobbled the ball, seemed almost nonchalant about running over and picking it up.
And then he did that?
It was in the air for perhaps 300 feet -- a long, arcing throw, a breathtaking play, a throw that ended up in catcher Derek Norris' glove and nailed Howie Kendrick.
Somehow, it fits what we know of Cespedes. He's liked in his own clubhouse. He likes to have a good time.
And there's this: Cespedes' talent is scary.
Last summer, when his teammates found out Cespedes would be participating in the Home Run Derby the night before the All-Star Game, they knew immediately that he would win. They just trusted that on a big stage, in a test of skills, he would show the world his talent.
There are so many different parts to the A's team. There's the rotation that has survived two key injuries. There's the bullpen that has been tremendous despite Jim Johnson's troubles.
There's depth all over the field, here, there and everywhere. There's Josh Donaldson's competitive fire. Plenty of other guys have that fire, too.
There's Bob Melvin, the manager who flies so under the radar that a lot of people don't know how good he is. The thing about him is that to know him is to like him, to respect him, to trust him. There are no games with Melvin. He makes every decision based on what's best for Oakland, and every single one of his players knows this.
There's vice president and general manager Billy Beane, who has again put his genius on display with constructing a roster in which the whole is greater than the sum of the parts.
The Angels are good, too -- good enough to push the Athletics right into September. And the Mariners are getting better by the day. The Astros, who have 14 games against the A's, Halos and Mariners in September, are better and could be a factor.
But Oakland has spent 70 days atop the American League West. The A's have been alone in first place since April 27. They've shown that they're a tough, resilient team -- a team going for a third straight division championship, a team that will not go away.
OK, back to Cespedes and that throw.
I went back and looked at the one Roberto Clemente made in Game 6 of the 1971 World Series. In the bottom of the ninth inning of a tie game, Clemente scooped Don Buford's double out of the right-field corner and fired a cannon shot back to home plate to hold Mark Belanger at third base.
When you think of Clemente, there are two iconic images that may come to mind. One is him flying around second base and his helmet coming off, arms flailing, a picture of fire and determination. That photo, perhaps more than any other, sums up Clemente.
And the other is that throw, that incredible throw.
Maybe all you need to know about the totality of Clemente's game is that the two plays a lot of people associate with him have nothing to do with his 3,000 hits. Isn't that what a complete player is?
No list of phenomenal outfield throws is complete without mentioning Bo Jackson. He made a highlight reel of them, including one in 1989 from the left-field wall to home plate to get Harold Reynolds. Cespedes is good, but Bo might have been the best there ever was.
One other play came to mind as I watched Cespedes this morning. That would be April 11, 2001, when Ichiro Suzuki threw a low laser to third base to get Terrence Long.
That one was breathtaking because Ichiro's career in this country was just getting started, and all the talk had been about whether his batting style would translate.
With that throw, Ichiro announced, "Hey, I'm the whole package." Indeed, he has been the whole package.
And Cespedes is the whole package, too. Wow. What an amazing play.
Richard Justice is a columnist for MLB.com. Read his blog, Justice4U. This story was not subject to the approval of Major League Baseball or its clubs.