Slumping Donaldson drops in batting order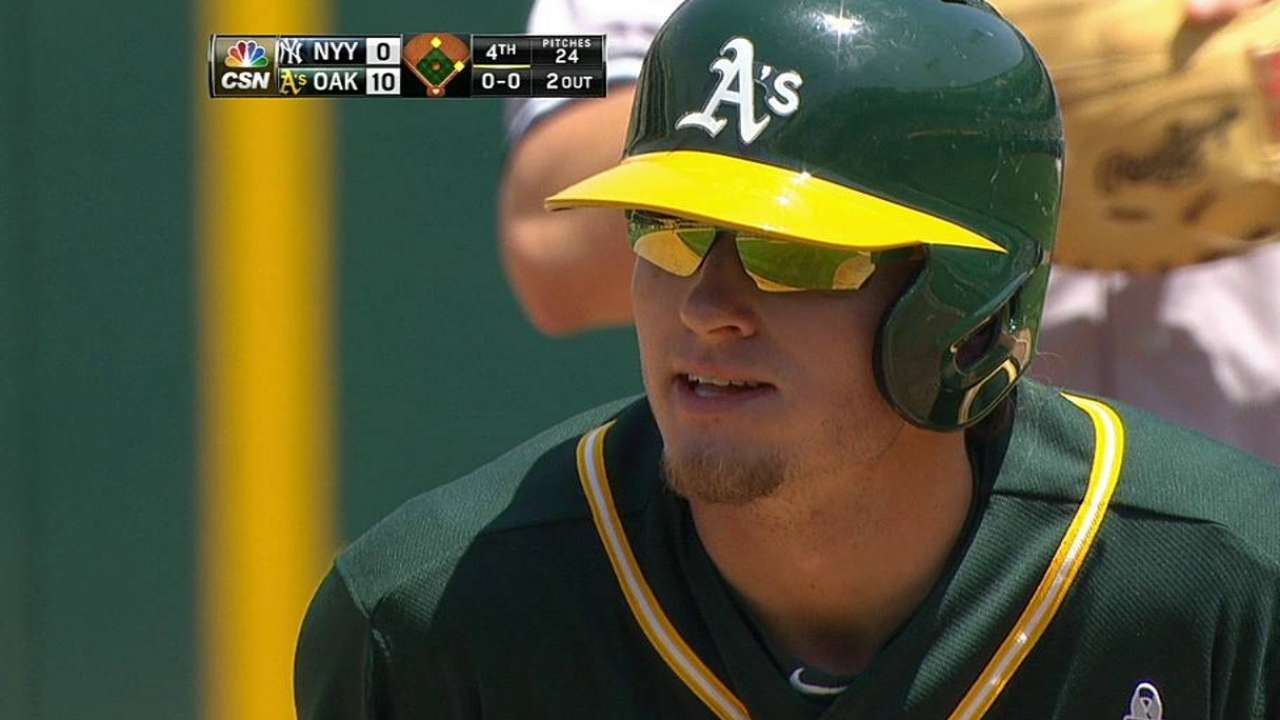 OAKLAND -- A slumping Josh Donaldson has temporarily been bumped from the middle of the A's lineup.
Oakland's third baseman batted sixth in Sunday's series finale against the Yankees, snapping a career-worst 0-for-33 streak with an RBI ground-ball single in a 10-5 A's victory.
"It's just a little bit of a change of scenery, which you do from time to time just to mix things up," manager Bob Melvin said. "I talked to him about it last night so he was aware. But he hits two, three and four for us, and it won't be long before he's back."
Donaldson, who last batted sixth on Aug. 19, 2013, has spent the majority of the season hitting third for the first-place A's, racking up a team-leading 17 home runs and 50 RBIs. But his average slipped from .285 to .250 in just two weeks.
Ensuing frustrations amounted to Donaldson's ejection by the home-plate umpire on Saturday, though the infielder maintains he simply asked him a question sans expletives. Melvin confirmed as much.
"That's what happened," Melvin said. "Technically, when you're talking around balls and strikes, it always gives the umpire an avenue to throw you out, but he told you the truth."
Donaldson was a man of few words on Sunday and wasn't necessarily concerned with his move in the lineup. As for whether it could help ease some pressure, he said, "We'll find out. I don't know. We'll see."
After the game, Melvin said of Donaldson's hit: "It's good to see. He gets an RBI on top of it. He's hit a couple balls hard, next time up he hits a ball hard to short. It's a difficult thing to go through. It's one thing if you're not a very good player, it's another thing when you're one of the elite players in the game and you're going through a struggle like that. It wears on you."
Donaldson certainly wasn't looking for any sympathy, at one point saying, "I feel great," but ultimately admitted to growing frustration.
"I'm human," he said.
Jane Lee is a reporter for MLB.com. Aaron Leibowitz is an associate reporter for MLB.com. This story was not subject to the approval of Major League Baseball or its clubs.