Cespedes welcomes chance to defend Derby crown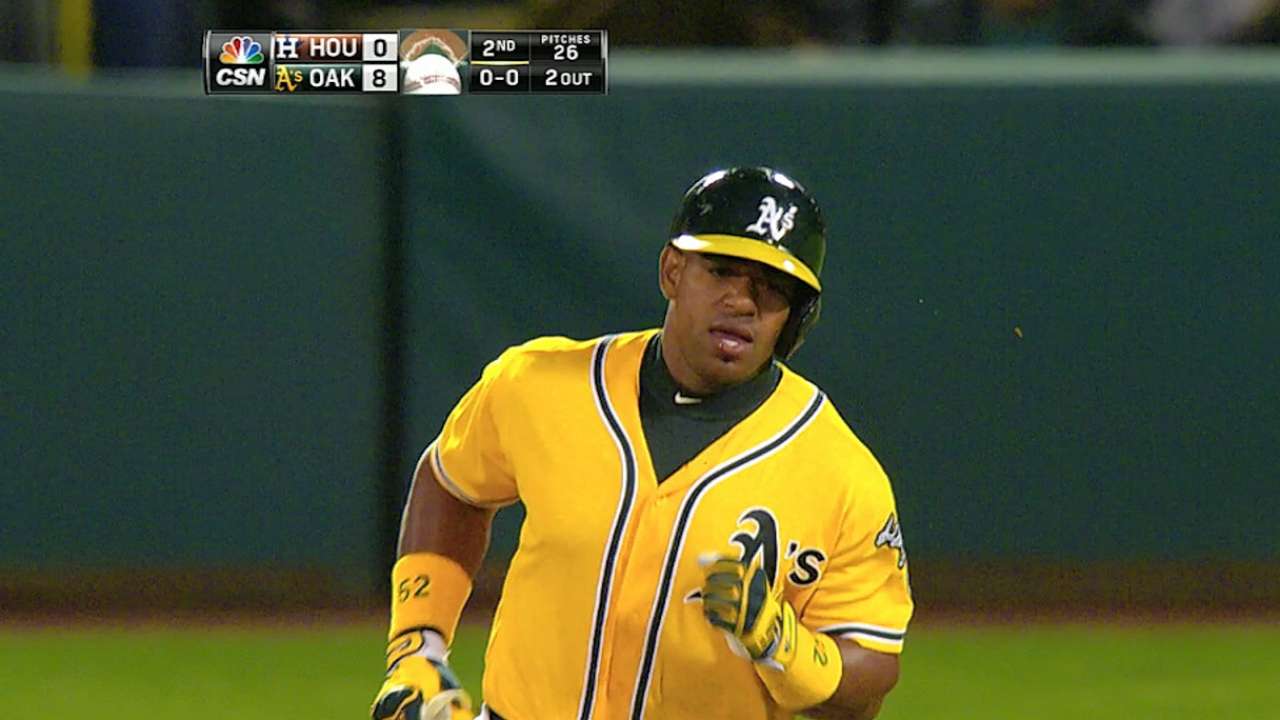 OAKLAND -- The reigning Home Run Derby champ is back for more.
As expected, Oakland's Yoenis Cespedes has officially been invited to defend his 2013 title, to which he says, "I'm very happy, and I'm going to do my best to defend my crown."
The Cuban slugger will have some stiff competition, including fellow countryman Yasiel Puig, along with the imposing Giancarlo Stanton.
National League captain Troy Tulowitzki and Todd Frazier round out the Senior Circuit, while American League captain Jose Bautista selected Adam Jones and Brian Dozier to join Cespedes at Target Field for the Gillette Home Run Derby, beginning at 5 p.m. PT on Monday night on ESPN.
"I saw the names," Cespedes said. "I'm going to do my best."
"It was so entertaining last year, and whenever you get an opportunity to do that as a player, I certainly understand that," manager Bob Melvin said. "You can't help but be a little nervous about that, and I think that's the case with any organization that has a player in it. But at the end of the day it is a very entertaining event, and the fact that he won it last year, gave us a little more exposure, probably not a bad thing. You just hope nobody gets hurt."
There is one unclaimed spot in each league, and the A's Josh Donaldson remains an option for the AL side. Those announcements will come Thursday.
Cespedes, who entered Tuesday's game with 14 homers, is attempting to become the Derby's first back-to-back winner since Ken Griffey Jr. (1998-99). He'll have A's infield coach Mike Gallego throwing to him again -- "He throws it at the speed I want and at the height I want," he said -- and plans to "hit every one I can."
"What I learned from last year is to be patient and look for a good pitch to hit," Cespedes said through an interpreter. "That's what I'm going to do this year."
Cespedes sustained a left wrist injury shortly after last year's Derby and was held out of four straight games out of the break, bringing to question the physical effects of such an event -- a common reason why several players opt out of it.
But Cespedes' second-half numbers last year ultimately proved much better than his first-half figures, and the A's left the decision to return to the Derby up to him.
"There is a lot of torque in his swing," said Melvin, "and whether or not it was just one swing after that that affected it, or if it was affected during the Home Run Derby -- I would say probably not, based on the fact that when he first came back it wasn't a problem, it just popped up right after that."
A new format has been installed, as the five players from each league will receive seven outs instead of the usual 10 in the first round. The player who hits the most homers in each league will receive an automatic bye to the third round (semifinals). The next two players from each league with the most homers will square off against one another in a head-to-head matchup in the second round (seven outs), with the two winners advancing to the semifinals against the league's top seed (again, with seven outs).
The final round will also consist of seven outs, and, if necessary, the first tiebreaker would allow each of the two remaining participants three swings apiece.
If you can't wait for the actual Derby, the MLB.com Home Run Derby mobile game is a good way to immerse yourself in the action immediately, with Target Field serving as the setting. The game is available for download on the Apple App Store and Google Play. New for 2014 is Multiplayer Derby Mode, Achievements and Objectives.
Jane Lee is a reporter for MLB.com. Read her blog, Major Lee-ague, and follow her on Twitter @JaneMLB. Aaron Leibowitz is an associate reporter for MLB.com. This story was not subject to the approval of Major League Baseball or its clubs.