A's place Callaspo on DL, recall Parrino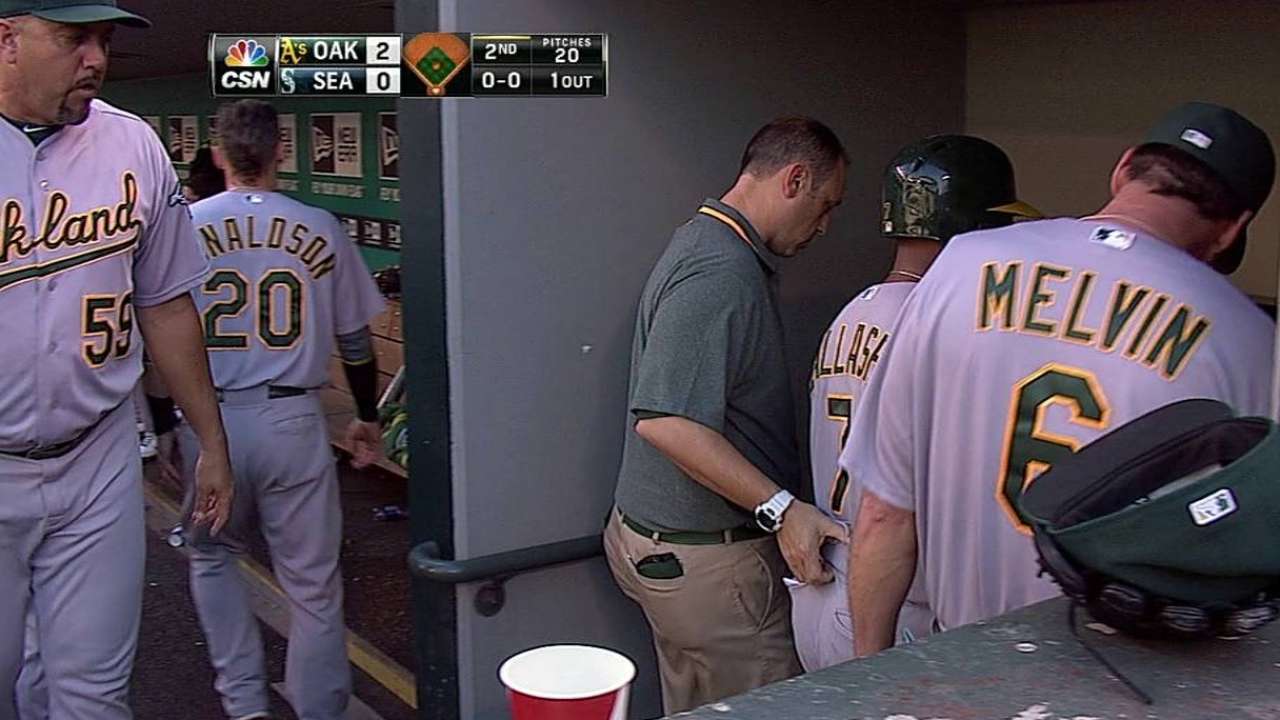 SEATTLE -- The Athletics placed infielder Alberto Callaspo on the 15-day disabled list with a Grade 2 right hamstring strain and recalled infielder Andy Parrino from Triple-A Sacramento on Saturday afternoon.
Callaspo had to leave Friday night's 3-2 loss to the Mariners in the second inning after he came up clutching the back of his right leg while running out a slow ground ball fielded by Seattle shortstop Brad Miller.
Callaspo, 31, has played four different positions for Oakland -- third base, first base, second base and designated hitter -- this season and is batting .234 with three home runs and 31 RBIs in 83 games. This marks the third trip to the disabled list of his career, and his first while playing for the A's.
"We felt like it would be at least seven days before he'd be able to do anything," said Oakland manager Bob Melvin. "You do the best you can to try to get him back before the 15-day period, but it all starts with at least a week's worth of rest. That would suggest we needed to DL him."
Parrino is back for his second stint with Oakland this season. He was called up on June 13 when Callaspo went on the paternity list. During that brief stretch, Parrino started a game at second base and a game at shortstop before being optioned on June 16.
Parrino, 28, has bounced back and forth between the A's and Rangers organizations this season, spending Spring Training with Oakland until Texas claimed him off waivers March 3. On April 21, the A's claimed him off waivers.
"It's always good that somebody wants you. Being able to go over to Texas for a little bit was fun," he said. "Obviously coming back here is where I want to be. This is a great team to be on and a great clubhouse. I couldn't ask for more."
In 68 games with Triple-A Sacramento and 13 games for Triple-A Round Rock in the Texas organization, Parrino combined to hit .284 with seven home runs and 46 RBIs.
Melvin said he is comfortable playing Parrino in the outfield. There may be a need there before the All-Star break, with center fielder Coco Crisp (neck pain) out of the lineup for the third consecutive day Saturday.
"I'd like to keep [Parrino] in one spot," Melvin said. "But he does give us that versatility."
"I think it's little easier when you're coming to a winning team," Parrino added. "You just try to fill in and do your part, and do whatever you can to help them keep winning."
Adam Lewis is an associate reporter for MLB.com. This story was not subject to the approval of Major League Baseball or its clubs.