1989 champs like look of current A's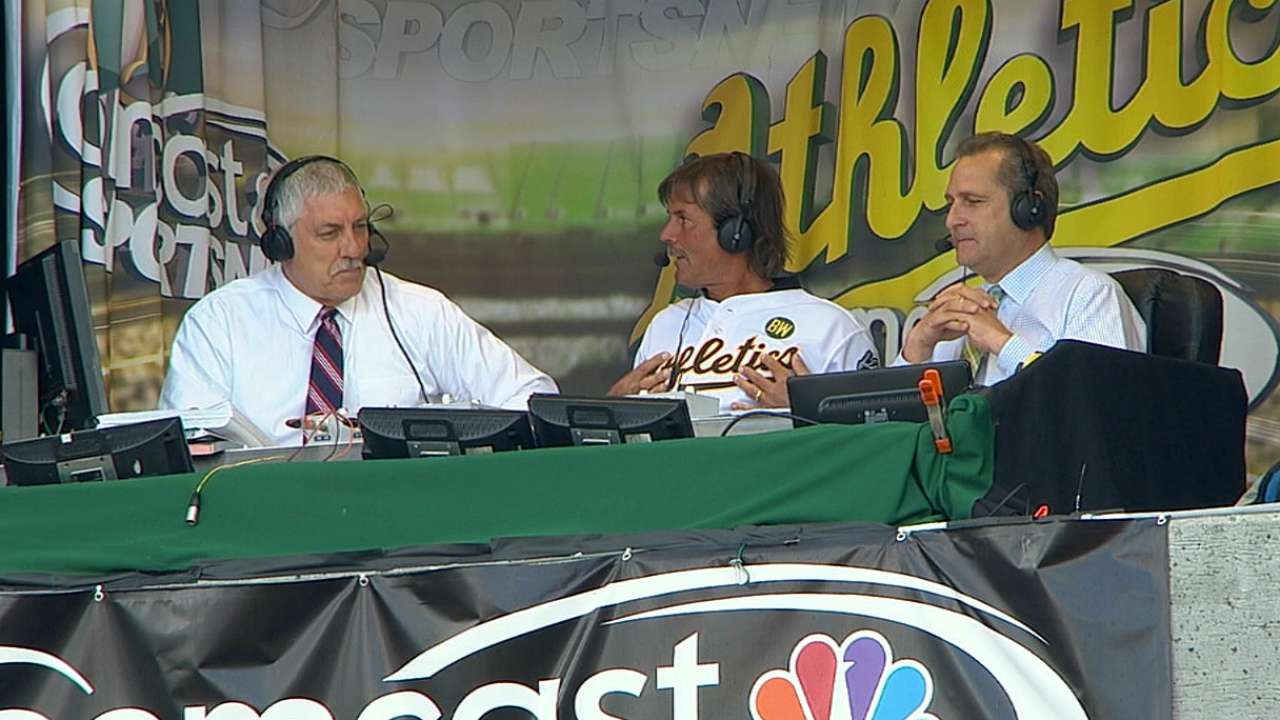 OAKLAND -- Could this be the A's team that gets back to the World Series? Members of the 1989 championship club believe so.
"I feel real, real confident that these kids here have the essentials to get to the World Series," said Dave Stewart.
Stewart was named MVP of the '89 World Series after winning two of the four games against the Bay Bridge-rival Giants while giving up just three runs. That's the last time the franchise claimed a World Series title, making Friday's 25th reunion at the Coliseum all the more special.
"Any time you have a World Series team that you can celebrate, you do it," said A's manager Bob Melvin. "That team's as good as you get. One of those teams the visiting teams would stay out and watch batting practice. They did a lot of things right. They hit a bunch of homers, too."
Jose Canseco hit a lot of those home runs. On Friday, he returned to the Coliseum for the first time since last playing there with the Yankees on Aug. 27, 2000.
"I think this occasion right now is great for all of us, to relive that in a positive way," said Canseco. "I'm still very nervous. I don't know how the fans will react to me. I have no idea. I'm putting myself out there in the most vulnerable state possible."
That's because Canseco "deeply regrets" writing the 2005 book "Juiced: Wild Times, Rampant 'Roids, Smash Hits and How Baseball Got Big," in which he made several claims -- among them that Mark McGwire had used performance-enhancing drugs since the 1980s and that Canseco had personally injected him with them.
"I've had my share of nightmares because of [the book]," he said. "I, myself, am trying to move forward from it. It's very difficult.
"I hurt myself the most. These were my teammates, my friends. We would confide in each other. These people who I mentioned in the book belong in the Hall of Fame, and I'm very worried and really depressed about the way they're trying to not vote these players in. They're saying these PEDs made them into a superstar athlete. That's so incorrect."
Canseco said he has reached out to McGwire, now the Dodgers' hitting coach, on multiple occasions, but has yet to hear from him. He's found forgiveness elsewhere, though.
"Time heals everything for me," said Hall of Famer Dennis Eckersley. "I tell you what? I've said things, I just haven't said it in a book. I'm cool with him. I think most guys are. … Part of me is glad it happened, because I like people being exposed."
Eckersley joined his former teammates in honoring the late Bob Welch, who died in June, by sporting "BW" patches on their jerseys. Rickey Henderson, Carney Lansford and Dave Henderson were among the other attendees.
"He was such a big part of that team, and if you know Bobby, he was a huge part of it," Eckersley said. "There's something about him, he just carried this special spirit, to say the least. He was a unique, unique guy."
The A's will continue to honor the '89 team with a pregame on-field ceremony on Saturday.
"We were a ballclub that refused to be beat," said Stewart. "We believed in putting our foots on the opponents' neck. We could beat by pitching, by hitting the ball out of the park. We were a defensive ballclub. We did a lot of things well. "We should be recognized with some of the best teams that ever played, in my opinion."
Jane Lee is a reporter for MLB.com. This story was not subject to the approval of Major League Baseball or its clubs.