No robot needed: LeGrande throws first pitch
KC resident tossed telerobotic first pitch to Cook last season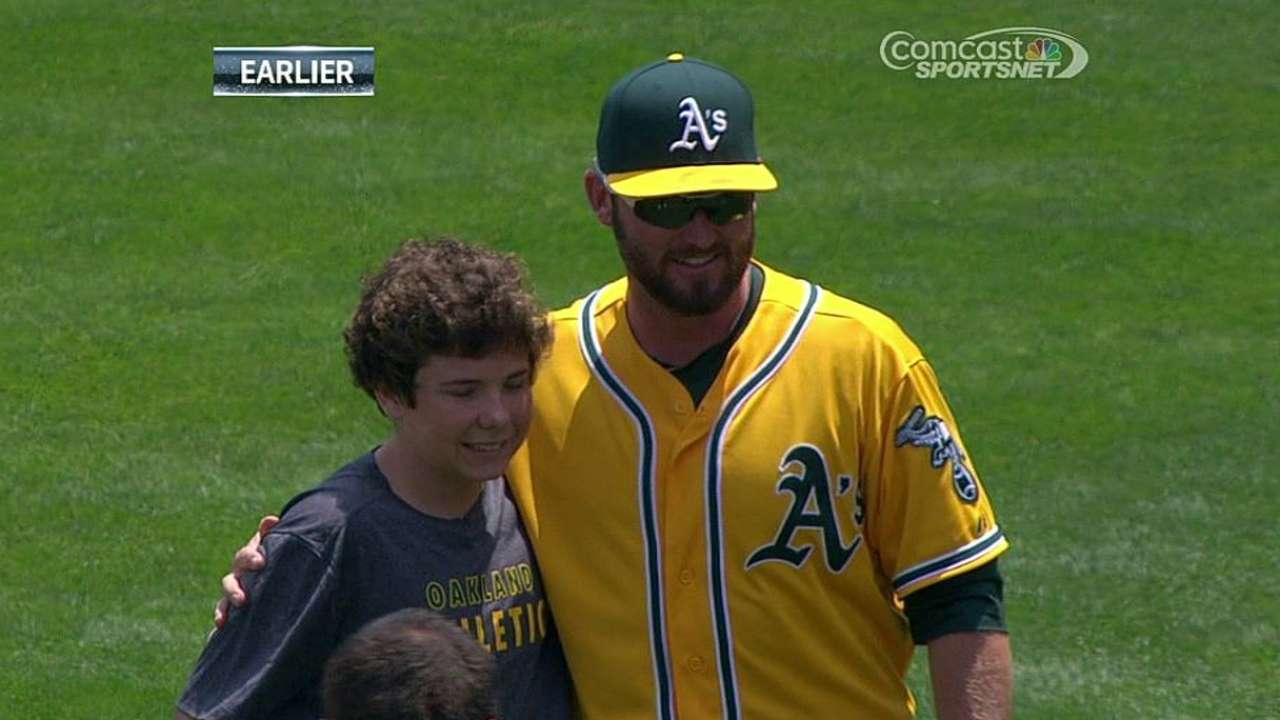 OAKLAND -- Virtually bonded more than a year ago through the first telerobotic first pitch in Major League Baseball history, A's reliever Ryan Cook and Nick LeGrande have since become good buddies.
They text often -- about baseball, the A's, video games. And, on Sunday, they were reunited for another ceremonial first pitch, this time in person at the Coliseum, just as they dreamed it up.
The 15-year-old LeGrande, diagnosed with severe aplastic anemia, a rare life-threatening blood disorder that affects six out of every one million people, was making weekly trips to the hospital for blood transfusions and could rarely leave his home when he first met Cook.
One month later, he underwent a successful bone marrow transplant and was soon cleared medically to make the trip west from Kansas City with his family.
"It was just amazing to me how it was never an issue of if he was going to get healthy, but when he was going to get healthy," said Cook. "Their family has had the right attitude the whole time. But just to see it actually come to fruition and for them to get here and have this happen, it's pretty cool.
"I'm very thankful this relationship has come out of it. Everything that transpired just kind of fell into my lap. I was honored to be part of it at the time, but now to have created a relationship out of it with him and his family, it's just amazing. We have open communication all the time. It's pretty cool. It's kind of humbling, really. You get so caught up in results, going out there pitching, this and that. Then you see, wow, I was able to use this to help somebody's spirits, and a relationship a year later is still going strong."
Jane Lee is a reporter for MLB.com. This story was not subject to the approval of Major League Baseball or its clubs.