Gentry lands on DL with broken hand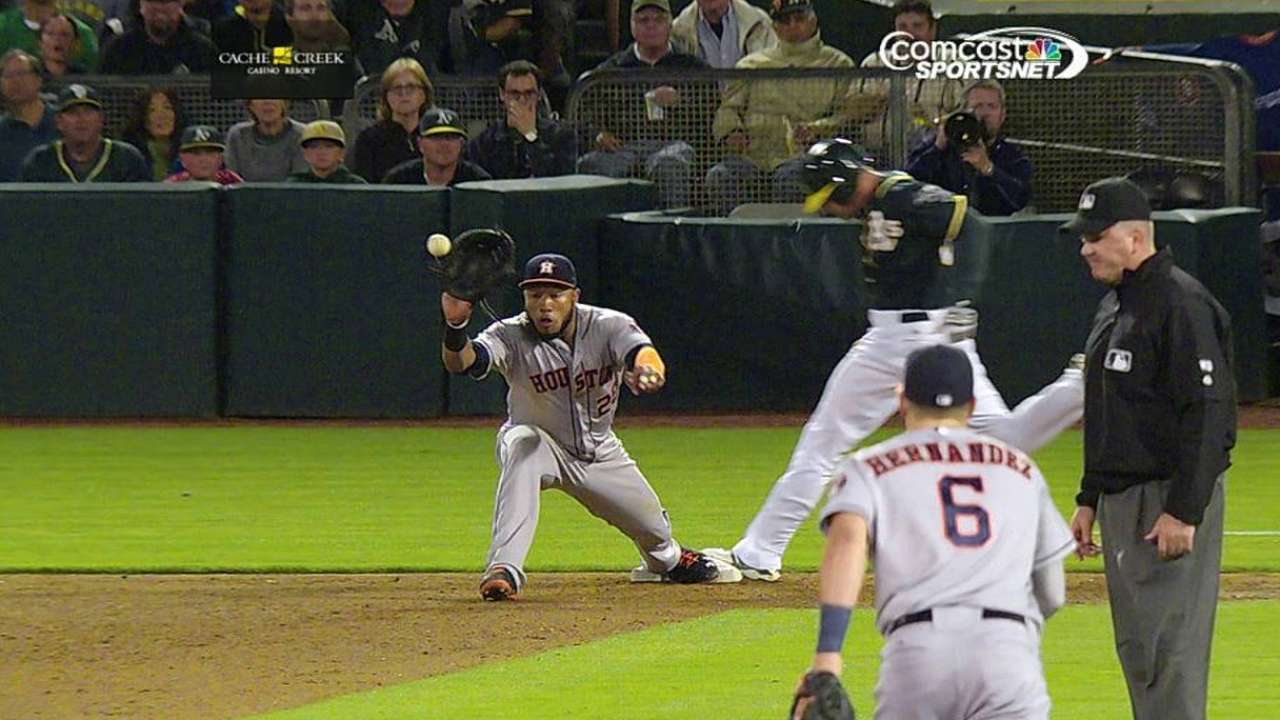 HOUSTON -- A's outfielder Craig Gentry woke up Monday morning in Houston expecting to be held out of the lineup for just a day with a bruised right hand. Hours later, he was undergoing an MRI exam that revealed a fracture, forcing him to the disabled list.
"The MRI was just more of a precautionary thing, I thought, just to make sure there was nothing wrong," said Gentry, who was struck on the hand by a pitch on a bunt attempt Sunday. "I really didn't think that there was going to be anything wrong, so I was surprised when they told me. It's unfortunate."
Doubly so when considering the A's are also without outfielder Coco Crisp for at least a few more days. Crisp is back in the Bay Area undergoing tests on a sore neck that has restricted his playing time for several months, the results of which will determine whether he, too, needs a DL stint.
Gentry's fracture, at least, is of the non-displaced variety, and he's not anticipating being out longer than a few weeks, as was the case when he suffered a similar injury to his other hand with the Rangers last year after getting hit by a pitch by now-teammate Jarrod Parker.
In the meantime, the A's have already called up another center fielder, promoting speedster Billy Burns from Double-A Midland for Monday's series opener in Houston.
The switch-hitting Burns, acquired by the A's in the December trade that sent lefty reliever Jerry Blevins to Washington, was batting .250 with 23 RBIs and 51 stolen bases -- in 56 attempts -- in 91 games with Midland. He is the A's No. 17 prospect, according to MLB.com's latest rankings.
He'll play center field against lefties, according to manager Bob Melvin, and will of course be a to-go pinch-run option.
"We were thrilled to get him, and the excitement went to a different level once we saw him in Spring Training," said Melvin. "This was a guy we gave a lot of at-bats to in Spring Training for a reason. He really impressed everyone. Couple that with the fact we wanted a center fielder, he was the guy.
"Sitting here, I'm now glad we were able to get him the extensive at-bats. We started him against front-line guys. It's not like his at-bats were coming late in games where the Double- and Triple-A guys were out there finishing games."
Burns is the first rookie on Oakland's active roster this season. He wowed in Spring Training, leading all A's players with 72 at-bats while hitting .306 with a .370 on-base percentage and 10 stolen bases.
"He showcased his skills in Spring Training," said A's catcher Derek Norris. "Granted, it was Spring Training and you never know how much you can look into it, but he brings to the table a lot of the same skills as Gentry, he's just a little smaller version.
"Anytime you lose guys who are key contributors in the lineup, it's definitely a blow. But optimistically looking at it, it means another guy is getting an opportunity. We've been playing without Coco pretty frequently, but the Gentry loss is a big bummer because he comes in, plays great defense for us, steals bags, scores runs, does everything but hit 700-foot homers."
Gentry was hitting .264 with 10 RBIs in 80 games with the A's, stealing 18 bases in 19 attempts and compiling seven assists in the outfield, where he routinely made highlight-reel plays.
"It's pretty frustrating, especially when Coco's going through his issues," he said. "I was looking at quite a bit of playing time. It's definitely frustrating, but we still have a great team to run out there, and I don't think we're going to miss a beat. I'll take this time to heal and get ready, because I'll definitely be back."
The time also affords Gentry the chance to rest his ailing right knee, which has caused discomfort off and on for the majority of the season.
Melvin deemed this the silver lining in an unfortunate situation.
"You know there's a good chance you're going to have some injuries over the course of a season," he said. "It seems like they've come in bunches for whatever reason, and two guys at the same position, so it's a blow, but we're going to have to get past it."
Jane Lee is a reporter for MLB.com. Read her blog, Major Lee-ague, and follow her on Twitter @JaneMLB. This story was not subject to the approval of Major League Baseball or its clubs.