Sogard finds success with shortened swing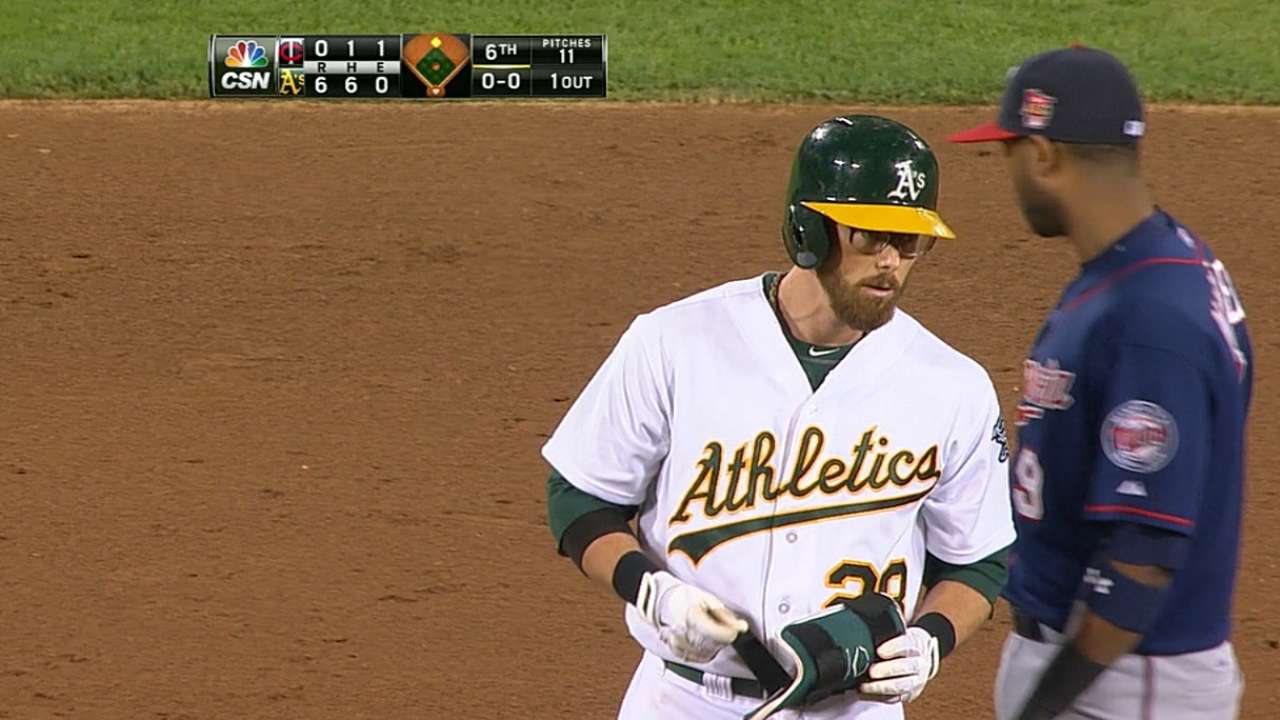 OAKLAND -- After a frustrating first half in which he was on the chopping block multiple times, Eric Sogard could have understandably spent his All-Star break mulling over everything that had gone wrong. Instead, his mind was anywhere but the baseball diamond.
Sogard's home was burglarized while the A's were in Seattle, so he spent the break moving his family into a new place. Now, he realizes there may have been a bright side to the terrible situation. Since then, he is 13-for-40 and is playing on a regular basis.
"I think the All-Star break definitely helped a lot, just kind of allowed me to get my mind off baseball for a few days there," Sogard said Saturday. "Obviously moving out of the house, having to deal with that kind of made me take my mind off baseball."
Sogard hit .186 in the first half and saw his playing time diminish. But he has started 14 of 21 games since the All-Star break, including six in a row after Nick Punto went on the disabled list with a strained right hamstring. Sogard was 6-for-14 with a home run since Punto's injury.
Clearing his head certainly helped, but just as vital to Sogard's turnaround was his work with batting coach Chili Davis to shorten his swing.
"That's what's fueled my success in the second half," said Sogard, "is being able to recognize pitches early and wait to the last second, just take my short swing to it, keep that line drive swing."
When Punto got hurt, the A's could have added a middle infield reinforcement. Instead, they called up first baseman Nate Freiman, leaving Sogard to play second base against righties and also fill in at shortstop when Jed Lowrie bruised his finger.
"We've seen Sogie swing the bat well before, and that's where he is right now," A's manager Bob Melvin said. "His defense always follows him and did a nice job playing short, but I think you're always tinkering, especially with a guy like Chili who's got a real understanding of both righties' and lefties' swings."
The challenge now is for Sogard to stay consistent.
"I like where I am now, I feel good," he said, "so just continue to go up and have good at-bats."
Aaron Leibowitz is an associate reporter for MLB.com. This story was not subject to the approval of Major League Baseball or its clubs.