Vogt's value to A's goes beyond catching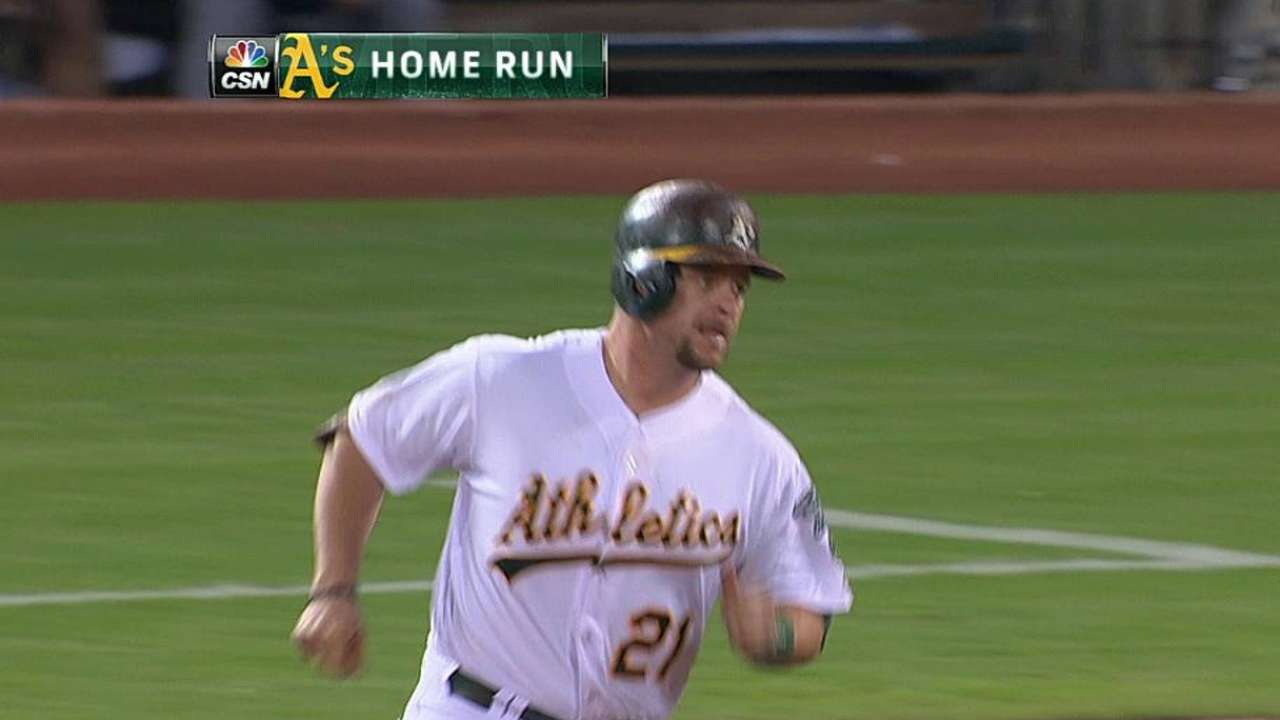 KANSAS CITY -- A lingering bone bruise in his right foot has prevented the A's Stephen Vogt from catching duties for more than a month, and it's unlikely he returns to them by season's end. That hasn't stopped him from contributing in other ways.
Vogt, batting .319 on the year, made his 20th start at first base on Monday in Kansas City, and he says he's made enough progress at the position to the point where he feels like he could be there on an everyday basis.
"But I don't want to lose the ability to play everywhere," he said.
That's what makes him so valuable to this team, even when he can't catch.
"We have to find a way to get his bat in the lineup, and based on how he's swung the bat since he's been here, to be able to put him in different positions, it's great," said manager Bob Melvin. "It's not something, when we first brought him over I would've expected, but then you look back and see some of the positions he has played in the past, he's fit right in."
Vogt has been batting the bone bruise since at least May, and it worsened in June in Miami, where he finally revealed to the coaching staff the pain it causes when catching because of the particular positioning of his feet. He still very much feels it when pushing off, whether on the bases or in the field when going after a foul ball, but, "It is what it is," he said.
It's the type of injury that won't go away without rest, and that won't come until the offseason.
"I'll just continue getting the treatment and avoiding things that will make it worse, like catching," he said. "I'd like to think that I can catch again this year if it's feeling better, because the pain's becoming more tolerable, but at this point, wherever I can help the team the most is where I want to be. Whether that's at first, or DHing or outfielder, that's what I want to do. Obviously the inner catcher in me wants to catch, but we have two pretty good catchers."
Jane Lee is a reporter for MLB.com. This story was not subject to the approval of Major League Baseball or its clubs.